Masterpiece Cuisine is a catering company that made inroads in Las Vegas but sought opportunities to expand to other sectors and locations in the US.
They faced a mountain of added complexities in tracking revenue and expenses. They realized they needed expertise beyond just another bookkeeper to scale their business.
Faced with Covid Shutdowns, Masterpiece Sought Opportunity in New Sectors
In 2019, Masterpiece Cuisine was a well-established catering company in Las Vegas. But like most businesses, the Covid-19 pandemic had a major impact on their business, prompting them to shutter their doors.
Scott Mahan, Owner and Managing Partner, used the sudden business shift to seek new opportunities.
The company entered new sectors like health care, hotel, and concessions. Though business revenue expanded with new contracts, internally, things became increasingly complicated.
The Challenge: to Construct a Better Foundation for Financial Operations
Masterpiece formed multiple entities and bank accounts because they hoped that by separating things out, it would be easier to get visibility into each division.
But they didn't have a proper system for tracking COGS or categorizing vendor bills and payment terms. Masterpiece was still using the cash basis accounting method, contributing to the greatest challenge of all: getting an accurate picture of their financial position.
The biggest issues they were facing:
Scott needed to see revenue by income stream
He didn't know if they were profitable because everything was comingled
They had 8 QBO accounts ( previous bookkeepers didn't know how to give him what he asked for)
P&L was useless because it wasn't pulling accurate and complete information
Finding the Right Expertise
Indinero was not the first accounting and controllership Masterpiece sought out. In fact, he had been through 10 bookkeepers up til that point. Fortunately, right from his first onboarding meeting with Brittany Stugard, he knew he'd finally found the right team.
"I've been through 10 bookkeepers in 16 years, indinero is the best we have worked with, and there is no close second. They are the first bookkeeper who successfully set us up for accrual bookkeeping. That seems a real struggle for food service companies because it is a lot of work."

Scott Mahan, Owner
Brittany Stugard, Senior Controller, Indinero
Brittany performs controllership services for indinero clients. She analyzes and improves internal processes, develops custom accounting workflows, and provides onboarding support and client training.
With over a decade of experience in accounting and finance, Brittany has diverse experience across many industries, including Restaurants, SAAS, and Professional Services. She understands industry-specific challenges like inventory and revenue margins and is no stranger to working with multiple entities and revenue streams. Her years of experience allow her to develop unique ways to address accounting complexities.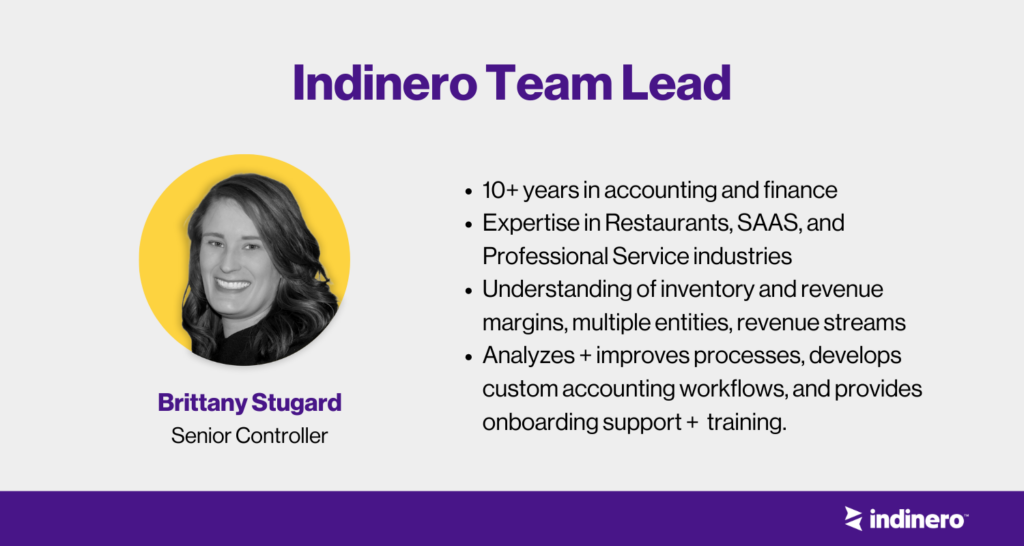 The Solution: Cleanup + Restructure
There were a lot of issues to address when indinero and Masterpiece joined forces, but fortunately, Brittany had seen it all before and quickly came forward with an action plan to get Masterpiece's accounting and financial operations in order.
Getting Organized
Scott will be the first to admit that things weren't very organized when they brought on indinero. After closing their doors during the pandemic and reopening with new business channels, they had lost their diligence on financial reporting.
Masterpiece was still using the cash accounting method, which it had outgrown. So, the first project was to do a full clean-up, followed by a switch to the accrual method.
Brittany also implemented accounting workflows and automated invoicing and tracking in software like bill.com and dext.
Eliminating Unnecessary Costs by Combining Entities
One of Masterpiece's biggest issues was the separation of its entities and divisions. This made things far more complicated than necessary.
Brittany took the time to understand what made Masterpiece's business model unique. She devised a solution to help them combine their separate entities into one, saving the company time and money.
By bringing all entities into one, Masterpiece shaved off redundant software expenses. In addition, the simplified management processes reduced the time required to manage the books and produce reliable reporting.
Giving Up Control and Gaining Trust
Many business owners can identify with Scott's trepidation when handing over control of their business finances. After all, he'd been burned before by bookkeepers who claimed to know what they were doing. In the end, he was left with more complexity than before.
From his first meeting with Brittany and indinero, Scott's hesitance melted away. Her expertise, confidence, and savvy brought relief – he knew he could finally trust someone to take over.
Brittany focused on improving workflow efficiencies instead of keeping with the status quo. By evaluating how things should be working and what Scott wanted to see, Brittany restructured his books and accounting processes to match.
"A great plan and all the knowledge are meaningless if it's not executed properly. Small businesses like mine often need that initial push in the right direction. Indinero was the first company to give us that and once we had it we started to run with it because it was simple enough for us to grasp. Indinero earned our confidence very early in the process."

Scott Mahan, Owner
The Results: Savings and Game-Changing Insights
The foundational work that went into restructuring the entities, changing to accrual accounting and creating internal processes resulted in numerous benefits.
Receiving timely and accurate financial reports
Masterpiece is saving $21,600 per year on accounting services
Scott personally saves 5-10 hours each week
Reduced software fees nearing $5,000/yr
One Quickbooks account instead of 8
Masterpiece renegotiated an important contract only because they were able to see the financial performance of that client
With these new processes in place, Brittany could deliver better consistency with financial reporting and quickly identify areas where Masterpiece was losing out on revenue.
"I can open the P&L monthly, go through it and easily make necessary changes. I couldn't do this before because the P&L was so far from completion that it wasn't something we could rely on for useful information. I was forced to calculate our KPIs (basically our COGS) separately on a cost sheet."
Now, Scott's expanding his business further from a place of knowing his financial position. Full visibility into all his operations and specific income streams puts the power in his hands to make strategic business decisions.
Are You Ready to Take the Next Step?
If your business is going through significant changes, you need the right team of financial experts on your side. Indinero's skilled accountants, bookkeepers, virtual CFOs, and tax experts are here to help you reach your financial goals.