As the saying goes, "do what you love, and you'll never work a day in your life." While usually easier said than done, Evan Varsamis and his lifelong friends, Cassie and Michael, found a way to follow this advice when they started Gadget Flow.
How Gadget Flow Works: More Than Just Another Online Marketplace
Simply put, Gadget Flow is where you go to discover and buy great products—with 100% of the emphasis on greatness.
Their mission is to find the best, most unique, most stylish products on the market and share 12 of them every single day. Their approach is journalist meets personal shopper: A constant news feed of avant guard products you can buy right then and there. Rain or shine, weekend or holiday if you're looking for a gift for a friend, family member, coworker, etc. or an excuse to "treat yourself!" you can always turn to thegadgetflow.com or their iOS or android mobile app.
Over the years, the 12 products per day amounted to 10,000+ products and more than 140 categories to shop from. Consumers and creators have taken notice, but no one is more surprised than Gadget Flow's founders who were just looking for a creative outlet and gift inspiration of their own.
Meet the Founders: Evan, Cassie, and Michael
Before there was Gadget Flow, the original team members, Evan Varsamis, Cassie Ousta, and Michael Chleiounakis met in 2009 at BCA College in Athens. After graduating they each joined the corporate world but quickly left their stable but dull desk jobs behind to form their own small marketing agency. Entrepreneurs at their core, this gave them the flexibility to execute on their many inspirations.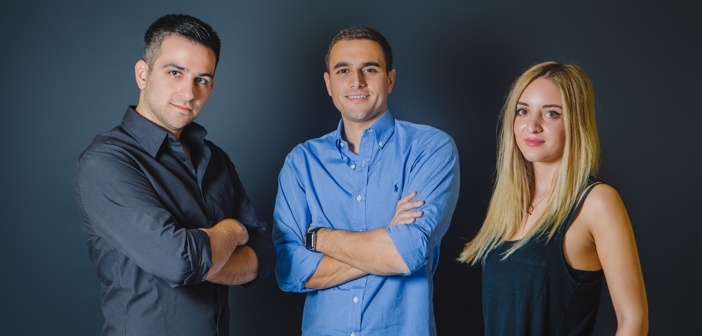 From left to right: Michael Chleiounakis, Evan Varsamis, and Cassie Ousta are the founders at Gadget Flow. Image via Startupper.
One Christmas, the group was scouring the internet for gift ideas for their friends and family. Hoping that they'd find a website that specialized in what they were looking for—when they nothing came up, they decided to put their digital marketing skills together and build it themselves:
"We created Gadget Flow simply because we were looking around on the web for high-quality products, not just blog-based roundup posts or vast ecommerce sites."
– Evan Varsamis, Founder & CEO at Gadget Flow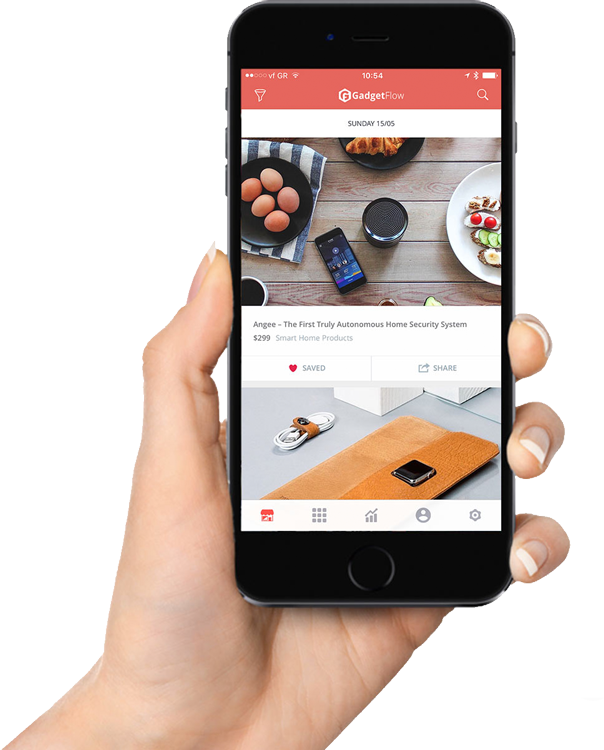 A few months later, they took their website pet project to the public. Immediately, they started to pick up traction seeing thousands of clicks, but what's more is the three found themselves putting in more hours than they had at any other work environment, but feeling more energized than ever before.
Evan recalls working at a 9 to 5 job feeling tired, exhausted, and uninspired, "I used to hit the snooze button every morning dreading my dress code and long commute just to go do something I didn't enjoy." Now that he does something he loves, he reports waking up without an alarm at 6 am, meditating, working out, and being mentally prepared for work mode by 7:30 am. In fact, working for himself at Gadget Flow has inspired him to travel more, eat healthier, read more books, and create a better routine overall.
Curating High-Quality Products Led to Captivating a Highly Coveted Audience
As Evan says, "Just like Rome, Gadget Flow was not built in a day." The researching and vetting that goes into consistently curating products every single day is a time-intensive process. But it is this that has set Gadget Flow apart from any other online marketplace from day one.
"People love the fact that they'll jump on Gadget Flow every day and they'll be able to see something new. We have people checking Gadget Flow daily!" – Evan
But these consumers aren't your typical QVC-watching housewives. Gadget Flow reaches some of the most elite shoppers and tech enthusiasts, which made brands take notice. While they have and will always go out and hunt for products to feature, Gadget Flow also receives submissions from businesses who want to share their products on the site.
From small crowdfunding campaigns and boutique manufacturers to large sellers like Sony and Amazon, Gadget Flow makes it all the more possible to get merchandise in front of the right people. To ensure quality, team members review each product submission to decide whether to feature it on the site or not.
How Gadget Flow Grew Without Growing Pains
Eventually, it became clear they were going to need more hands on deck. As they began hiring, the team of founders knew this attention to quality and emphasis on finding the best of the best products to feature was not something that could dwindle with more headcount.
Today, the team has grown from three to upwards of 25 team members working remotely from across the globe including London, San Francisco, Singapore, Ukraine, and Athens yet they still work as a single unit. Maintaining the level of quality has remained the top priority which makes hiring the right people and training them extremely important.
The beauty of what Evan, Cassie, and Michael have created at Gadget Flow is a work-life balance culture where your work and your lifestyle unite for the greater good of the website. The more the founders and their employees spend their time shopping for and testing new products and writing about them, the better Gadget Flow gets each day.
One aspect of Gadget Flow's strategy that makes this possible is keeping everyone on the internal team 100% focused on hunting for products to feature and creating new content. And if this sounds like fun, that's because it is!
The trade off? Businesses that dedicate all of their resources to their core competency must find alternative ways to handle the other operational aspects of running a business. Luckily, these expert shoppers knew how to use their sourcing powers to find just the right tools for each job.
So what do the expert shoppers include in their startup tool box?
Outsourcing functions of running a business helps the Gadget Flow team continue to spend time doing what they love: Curating products. Here are a few tools they've added in their company's repertoire over the years:
And when it came to Gadget Flow's accounting, they turned to indinero:
"I'm a millennial. I love products and am super experienced with technology. I know all of the [accounting] services that are out there, and I feel that indinero's product is leading the industry right now." – Evan
After doing the research, Evan was blown away by indinero's offering that combines software and services, "I love the fact you have an amazing financial dashboard and an expert-level human touch. It's not just a generic support line."
Stop Hunting, Start Discovering
Looking for a way to find new and exciting products?
Sign up for Gadget Flow to hear about new products and even create your own personalized feed!
Want to see your product featured on Gadget Flow?
Boost sales and exposure by submitting your product to the Gadget Flow team.
Building your businesses #StartupStack?
Be sure to read through our list of 100+ Tools Small Teams Use to Get More Done, so you can put more energy into doing what you love (and less on day to day administrative tasks).
Want to dive right into selecting an accounting and tax provider? The Accounting and Tax Filing for Entrepreneurs guide covers all of the options out there and includes interactive activities you can use to decide what's right for your business!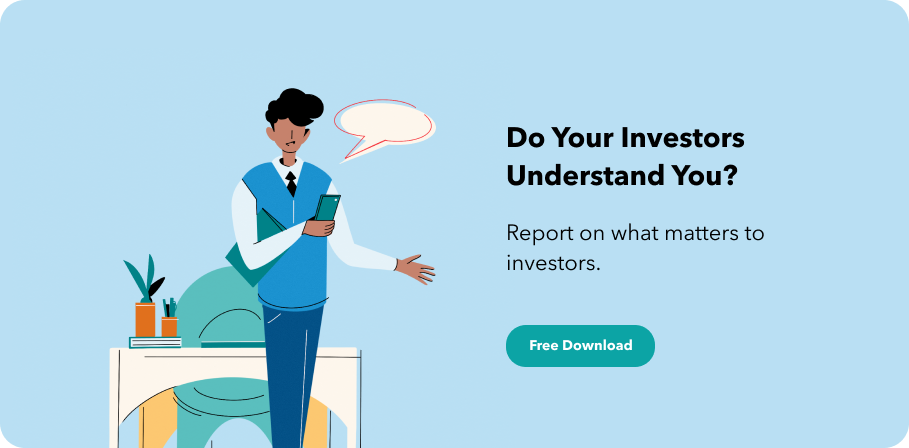 Quick Note: This article is provided for informational purposes only, and is not legal, financial, accounting, or tax advice. You should consult appropriate professionals for advice on your specific situation. indinero assumes no liability for actions taken in reliance upon the information contained herein.