Share an essay on any topic of your choice. It can be one you've already written, one that responds to a different prompt, or one of your own design.
This is just one of many Common Application questions university candidates are facing today. Anyone facing college admissions is looking forward to hours, maybe days, of wading through demographic, academic, personal, essay (we could go on, there are so many more!) questions, often on their own or with the help of a very overworked school counselor. Perhaps the most daunting challenge for students is that they don't understand which questions are most important, and how your answers affect your admission.
A couple of former admissions officers, Anna Ivey and Alison Cooper Chisolm, decided to level the playing field. They started CommonCoach and built their product, Inline, which provides real-time, expert support for all those pesky general questions. And the best part – you can get started for free.
Meet the founders

Two worlds collided to develop and deliver this digital college coach. From the admissions world, enter Anna Ivey and Alison Cooper Chisolm, both former admissions officers and co-writers of How To Prepare A Standout College Application. Running a successful admissions consulting business presented its own challenges, namely scalability. Enter Kevin Grinberg and Andreas Randow, powerhouse leaders in tech innovation with over 40 years combined experience in software development.
"Kevin and Andreas really helped us think through how to deliver our expertise in this digital, scalable way, which is very different from writing a book, very different from doing one-on-one consulting which is woefully unscalable and not really affordable for most of the mass market." Anna Ivey.
The outcome? A unique platform (called Inline) that appears when and where people need it most, namely online, perched atop the most widely used college application system.
Bootstrap business meets scalable financial partner
Knowing the high-stakes admissions market allowed no room for errors, CommonCoach built a market-ready product through slow, deliberate growth. There would be no haphazard, partially built product launch for this self-funded team. They simply couldn't afford anything less than perfection. No pressure, right? The old saying "time is money" comes to mind.
Anna explains, "I'm not a bookkeeper, I'm not an accountant, it's not my goal to become one. We want to be focusing on making great products and generating revenue." With scalability and growth in mind, CommonCoach found a partner with indinero. She continues, "Every minute that we spend on bookkeeping and accounting is a minute we're not spending on the things that we really need to be prioritizing."
A team of accountants and tax experts dedicated to CommonCoach's financial success helped alleviate the burden of day-to-day bookkeeping, giving Anna and fellow co-founders the freedom to focus on refining their product.
"indinero really helps us leverage our time effectively and outsource the things that are not what we're best at and not what we want to be spending our time on. And they do it in a transparent and predictable way." They meet with their indinero Assistant Controller regularly to talk over any questions and make sure everything is on track. "It's so easy to get good advice from within indinero and they are just ruthlessly efficient, nobody wastes my time," says Anna.
How it works: strategic advice when you need it most
While there are many tools for adjacent parts of the admissions process – CollegeChoice matches you with your ideal college and College Essay Advisors helps with those dreaded essay questions – no tool existed that offered affordable advice on the application as a whole.
Inline works in tangent with the Common App, a single application system for over 800 universities nationwide. Simply download the free Inline Google Chrome extension and it automatically appears in your Common App account the next time you login. Right away, strategic advice from former admissions officers guides you through each section.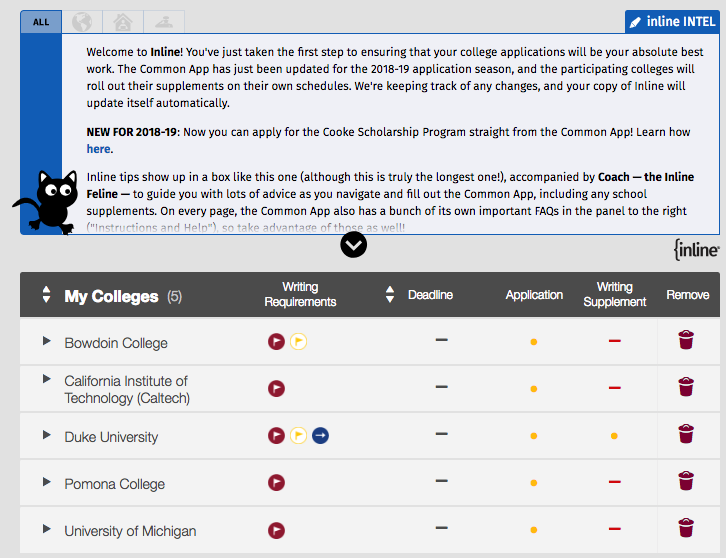 Inline INTEL gives applicants special tips for college-specific essays and insider knowledge of how admissions officers evaluate each essay. With special add-ons for homeschoolers, veterans, and international students, Inline has leveled the playing field for all applications, making higher education accessible to everyone.
The future is full of application possibilities
Since launching in 2016, the CommonCoach team continues to finetune Inline with the goal of democratizing the college admissions process. By partnering with high schools and community organizations, CommonCoach also makes expert help available to those who don't have access to computers at home. The DIY nature of Inline puts the power in applicants' hands to really give it their best shot with expert advice only a click away.
With the Common App down pat, what application process is next up for CommonCoach? Anyone out there struggle through the FAFSA (Financial Aid)? "You know, the other big elephant in the room is the FAFSA, the federal financial aid application form, and I can't wait to tackle that, but one thing at a time." Anna on exciting potential challenges ahead. If not FASFA, there's graduate schools, law schools, medical schools – so many school application processes, so little time.
If you are a high school or CBO that could use our software to help underserved students with their Common App applications, please message us. We are happy to pilot with you – we provide our software to underserved students at no cost. https://t.co/sbZQmyzeTP

— Inline for College Apps (@inline_college) April 3, 2018
As Anna and team look to the future, they see a time when self-funding will run its course and the time to fundraise arises. To grow their human resources and technology, they will need to build a bigger budget, and with indinero as their growth partner, CommonCoach will have all the reports, projections, and advice needed to access next steps.
"We've gotten this far on our own and we've been a lean and mean operating machine. And indinero has certainly played a role in that. Next steps we'll probably need outside funding, and when that times comes, indinero will be there to help us make sure we have our books ready to go." Anna shares her confidence that indinero is the growth partner for her business.
Building your business bootstrap-style?
Be sure to read through our list of 100+ Tools Small Teams Use to Get More Done, so you can put more energy into doing what you love (and less on day to day administrative tasks).
Ready to start fundraising? Check out our Startup CEO's Guide to Accounting that Meets Investor Expectations to hear advice from our team of CFOs on what it takes to get the funding you're looking for.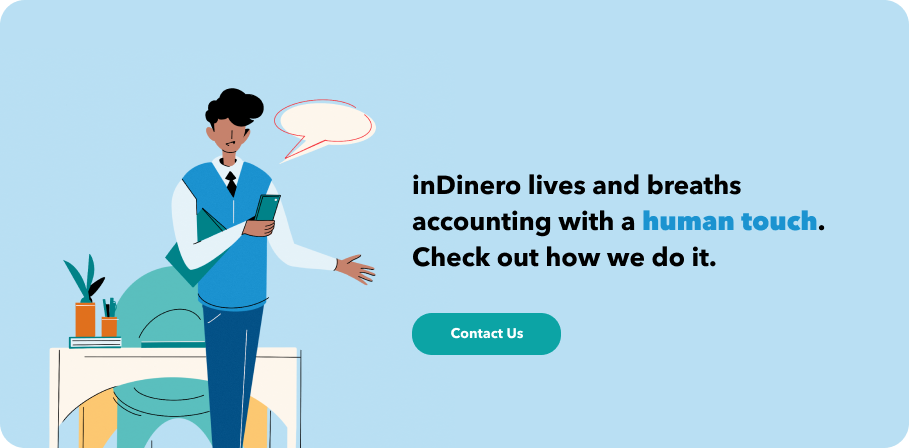 Quick Note: This article is provided for informational purposes only, and is not legal, financial, accounting, or tax advice. You should consult appropriate professionals for advice on your specific situation. indinero assumes no liability for actions taken in reliance upon the information contained herein.