Williamsburg Learning provides inspiring, adventure-based online curriculum and mentorship opportunities to students in schools across the United States. They needed professional financial management when their internal team could no longer cope with their growth. That's when they discovered indinero, starting a beneficial partnership that took their business to new heights.
"My peace of mind has increased tenfold around finances. I just don't have to worry about it anymore." 
The Problem: An Outgrown Internal Finance Team
Founded by Nels Jordan, Williamsburg Learning initially relied on an internal accounting team to manage its finances. However, as the company grew, so did its financial complexities. Nels realized they needed external experts to manage this, especially when they decided to switch from cash to accrual accounting in 2021.
Williamsburg Learning's industry is unique because it runs on an annual cycle. They recruit students once a year, and the accounting department has to learn to think about their annual cycle – their fiscal year starting July 1.
Williamsburg Learning has a parent company and three different subsidiaries, creating financial complexities. It's critical that the company transactions are done correctly between those entities for liability, protection, and compliance reasons.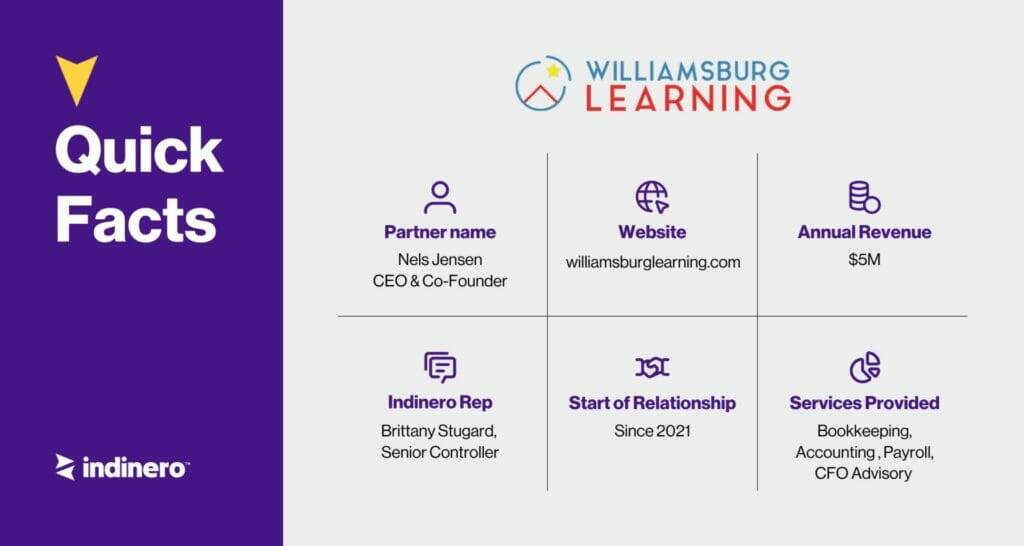 The Challenge: Finding the Right Financial Experts at the Right Price
Nels needed a financial expert who could integrate seamlessly into his business while providing efficient services within the budget of his current internal team. They wanted to simplify their financial process and eliminate non-profitable business areas. Above all, Nels wanted the accounting team to be an integral part of the company rather than an additional burden.
Williamsburg Learning had a list of criteria for their new financial consultants. Here's what they were seeking:
Spend less on financial management
A faster, more efficient financial team
An expert who could simplify their financials
A pro who would easily integrate with their internal teams
The Solution: Indinero's Expertise
Indinero emerged as the best solution for all of Nels' criteria. Nels first project to test indinero's expertise was transitioning from cash to accrual accounting. Indinero's representative, Brittany Stuggard, successfully managed the process, impressing Nels with her proficiency. Brittany was also tasked with providing cash flow projections and monthly reporting.
Brittany didn't just provide accounting services but also worked closely with the company's outside CFO, becoming a vital part of the Williamsburg Learning team.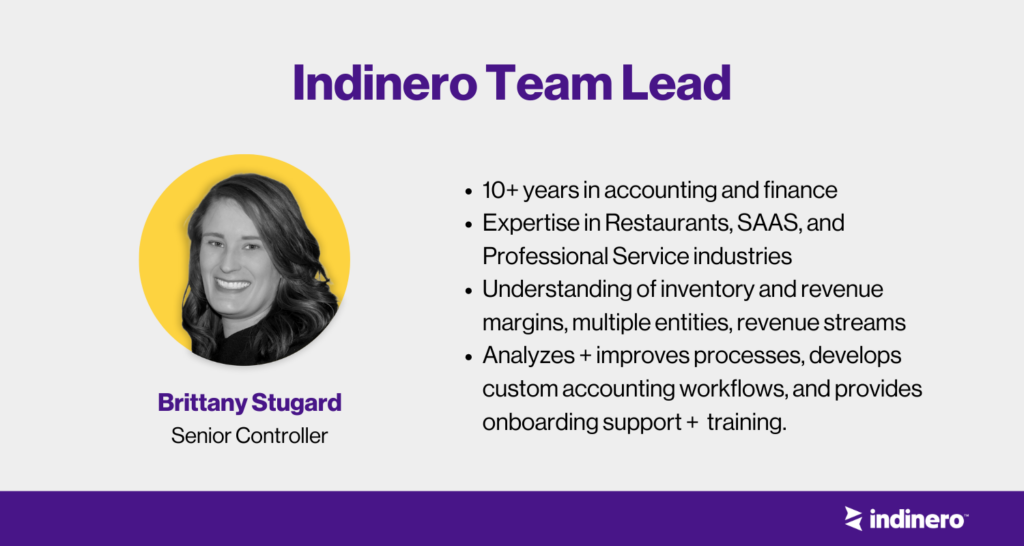 The Results: Financial Efficiency and Significant Savings
As soon as Brittany integrated into the team, Nels noticed a drastic improvement in their financial processes. Nels was impressed at how quickly she got her head around Williamsburg Learning's mission, including its financial history and goals.
Brittany completely optimized Williamsburg Learning's AP and AR workflows for their internal accounting staff. She also provided monthly consolidated reporting for all 4 entities with flex budget analysis.
Williamsburg Learning replaced their full-time employee with Brittany and indinero. Brittany streamlined their financials, providing tailor-made reports for stakeholders. Not only did this increase Nels' peace of mind around finances, but it also led to significant cost savings.
"All in all, indinero's team saved us about 30% on financial management. We've reduced our costs from $95,000 for in-house salary to under $6,000 monthly. The whole process with indinero is so much faster and more efficient, and errors have been significantly reduced. The service functions as part of my company and my team."
With indinero, Williamsburg Learning has found a long-term financial partner that aids their growth while ensuring financial wellness.
Ready to Focus on Your Business's Financial Health?
If your business needs a financial expert who can grow with it, indinero can help. With years of experience supporting nonprofit and professional services businesses, we ensure your financial matters are in safe hands. Schedule a call with an indinero expert today to discover the integrated finance team your business needs.