When you think 'startup,' you usually don't think about innovations in food—especially pizza, which has changed very little over the last half-century.
There is, after all, something classic about pizza. All you have to do is dial up the nearest pizza chain, and voila, pizza arrives outside your door, not thirty minutes later.
Even though many would say the pizzas they make are appetizing, satisfactory, and above all, consistent, Zume Pizza's founders knew there was much room for improvement. With a passion for food and a knack for thinking outside of the box, Zume Pizza is flipping the industry on its head with an integration of new technology and a refreshing business model.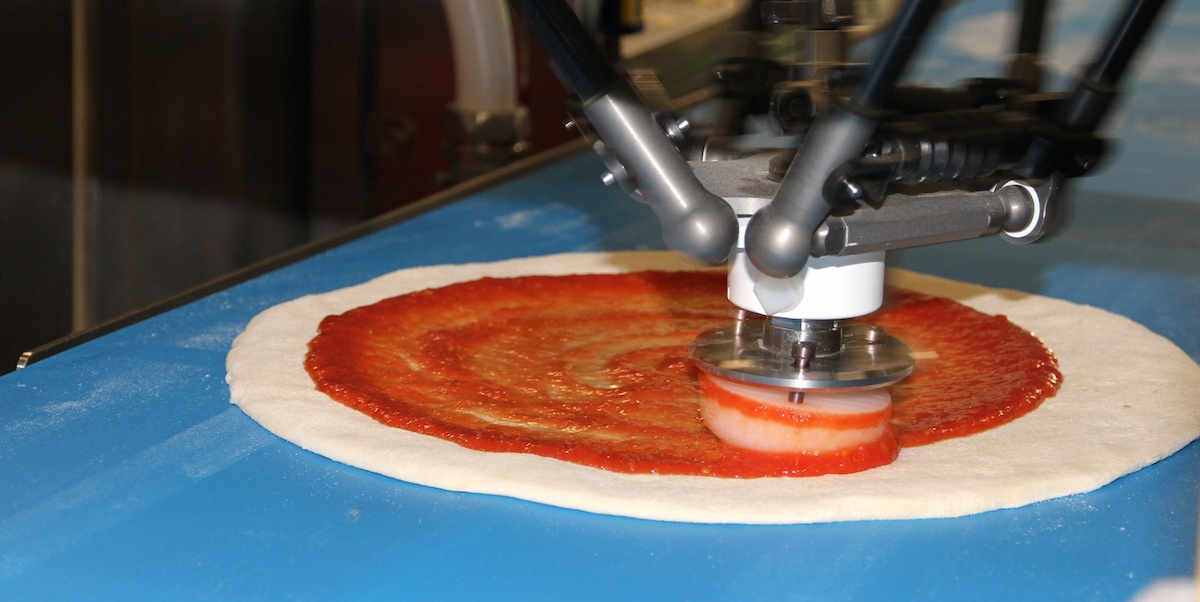 First, let's look at the problems hiding in the pizza industry.
Even the most consistent pizzerias pay the price of efficiency—often in the form of quality. As your typical local or chain pizza parlor scales, not only is taste impacted, but so are the physiological effects:
"It starts with a niacin flush," explains Julia Collins, co-founder of Zume Pizza. "Bite after bite, your skin becomes red and warm, and even itchy. Then, the impending sugar rush hits your body, and your head begins to throb. To round things off, the load of processed, cheap energy carbs gives you the carb blues, and before you know it, you're stuck on the couch for the night."
While millions of consumers continue to munch on what typically ends up in a night of overeating and discomfort, major pizza chains continue to pump out a mediocre product that we fall for again and again.
The "big pizza" business model impacts more than consumers' health
Franchise owners (hoping to take a slice out of the pie, so to speak) struggle with the massive operational costs to make a profit, while employees also suffer reduced wages due to inefficiencies.
Julia shares an insight her co-founder & co-CEO, Alex Gardner discovered after looking at what happens behind the scenes at you average chain pizza parlor:
"There's typically one person on the register, one making the pizza, another out delivering, people answering the phones, putting together boxes, etc. Even a tiny little Dominoes unit will have 33 people working there."
Zume Pizza is reimagining food delivery, one pie at a time.
Just imagine – instead of a soggy, greasy box full of pizza cooked 30 minutes ago, with a slightly chewy taste and toppings in disarray– the pizza comes right out of the oven, at your doorstep.
Zume cooks their pizzas on the go with ovens built right into the delivery vehicles, taking fresh to a whole new level.  When you order from Zume, you get a golden, slightly crispy crust, perfectly cooked toppings, and expertly melted cheese that's steaming hot from literally just coming out of a restaurant-quality oven.
They are leveraging technology not only to automate and improve efficiency, but to improve the customer experience in a whole new way that other companies can't compete with. But while this is the core innovation that drives the business, co-founder Julia is even more invested in the offering.
First and foremost, Zume Pizza is a food company.
Julia Collins has been a foodie all of her life—even before "#foodie" claimed its status as a top hashtag on Instagram.
She grew up spending her summers in the hills of Southern Italy, cultivating a relationship with food by experiencing hyper-local, uber-fresh, and of course, extremely well-prepared meals.
But food was more than just nourishment for her, it was a way of connecting with others:
"It was my way of learning about culture, it was my way of expressing myself, it was my way of making friends. It's always been my way of getting to know people," says Julia.
This food culture was completely unique to her experience in the United States. The Italian family she stayed with always ate in season, and everything was grown nearby from farmers she knew.
"Everything we do from a perspective of technology—even software engineering—is done in service of the food."
Zume founders have figured out a way to wed their passion for food with a unique use of technology to make food more healthy and more exciting. Their incorporation of robots and software into the food industry is about adding quality to the consumer experience and making a better product.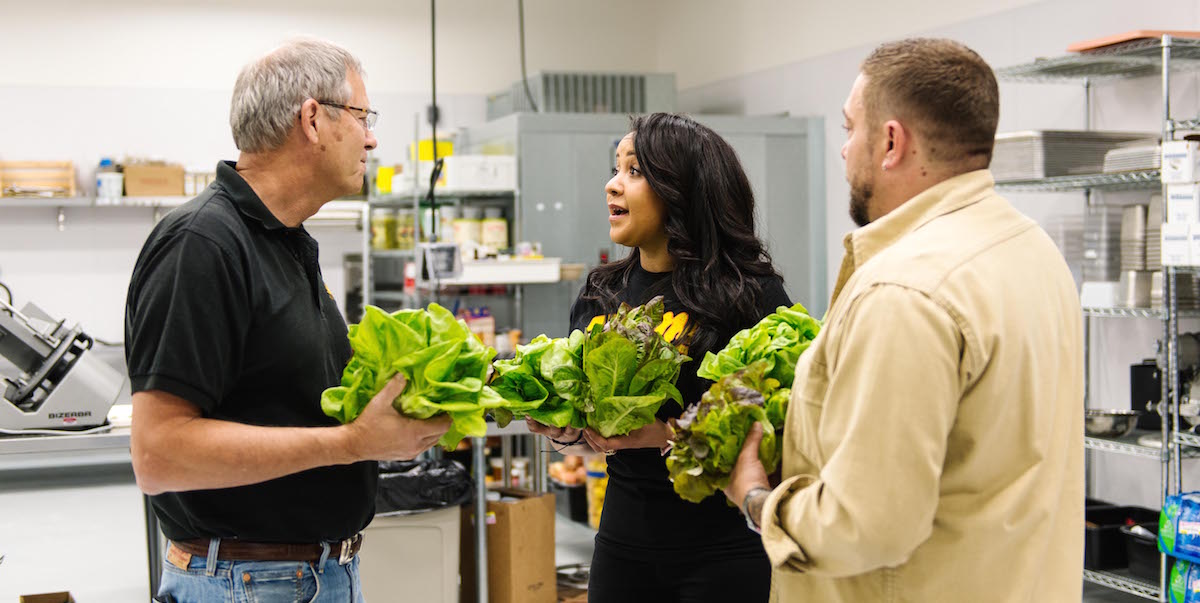 Julia and co-founder Alex Garden pay close attention to the ingredients they source. This excerpt from Julia's letter on the About Zume page makes it clear that they are not messing around in terms of quality and locality:
"Our pizza dough is fermented for 18-24 hours, using flour, fresh yeast, filtered water, salt and extra virgin olive oil. The long fermentation makes our dough easier to digest and more nutritious than commercial pizza dough.
Our produce is sourced from local farms, which means that it arrives days after the harvest at the peak of ripeness.
Our artisan cured meats are crafted by hand and made using only naturally occurring nitrites and nitrates whenever possible.
Our flours are non-GMO and never bleached or bromated.
Our packaging is made from 100% sugarcane fiber and every component of the box, including the sticker is totally biodegradable and compostable."
Rethinking the delivery chain model starts with a solid back office.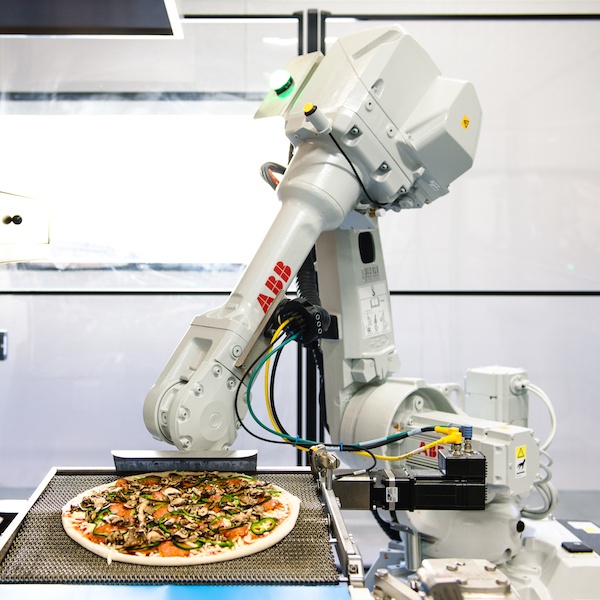 Zume's co-founders aren't just focused on food quality as their only marker for success. They are also trying to run a business that's sustainable – something that can support their employees beyond the typical pizza chain with better benefits and better pay. Not only that, but they source produce locally not just for good ingredients, but to support the local economy.
And even though they are spending more money in wages and quality ingredients, their pizza prices are budget-friendly:
Julia and Alex share a belief that "every single person has a right to really, really delicious affordable food with convenience."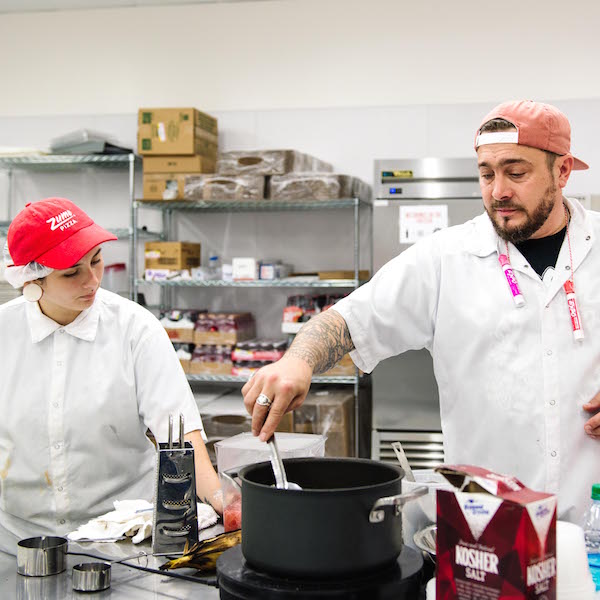 Zume Pizza turns to outsourced accounting to manage their dough
Part of what makes Zume successful is their impressive attention to detail that extends beyond their recipes and into the back office. Running a business means juggling a lot of different responsibilities, and Julia has found a way to excel where many early stage companies fall short: understanding their financials.
It seems simple, but it is so often overlooked in the startup world. Part of what allows Zume to pay their employees more and budget for ingredients and technological upgrades is their organized back office.
"Having discipline around financial reporting and expense management has been very important to us from the perspective of managing investors, and just culturally. Nothing slips through the cracks," Julia shares.
Knowing where the money is going (and where it's coming from) enables Julia and Alex to make smart decisions that are foundational for building Zume Pizza into a successful business. More importantly, it's helping them build a business that's fulfilling their mission: high quality, affordable, delicious, and healthy delivery food.
Getting hungry?
Zume Pizza currently serves Bay Area pizza lovers from San Francisco to Silicon Valley, but plan to expand as they grow and adapt to the industry. Next time you're in the area, be sure to download the app for a slice of pie.
---