Clients love how our financial dashboard puts their accounting needs all in one place, and we're always making it better so we can scale as they grow. However, we've noticed that a few of our most valuable features are often overlooked. Make sure you are getting all you can from indinero by checking out these features today!
Taking advantage of these features helps our clients manage their businesses better and get the most from indinero. Anyone can take a look at our solution on YouTube, but we give our clients exclusive access to customer support. So, if you're a client, be sure to bookmark the Client Owner's Manual for future reference or to download a PDF of these instructions!
1. User Permission Settings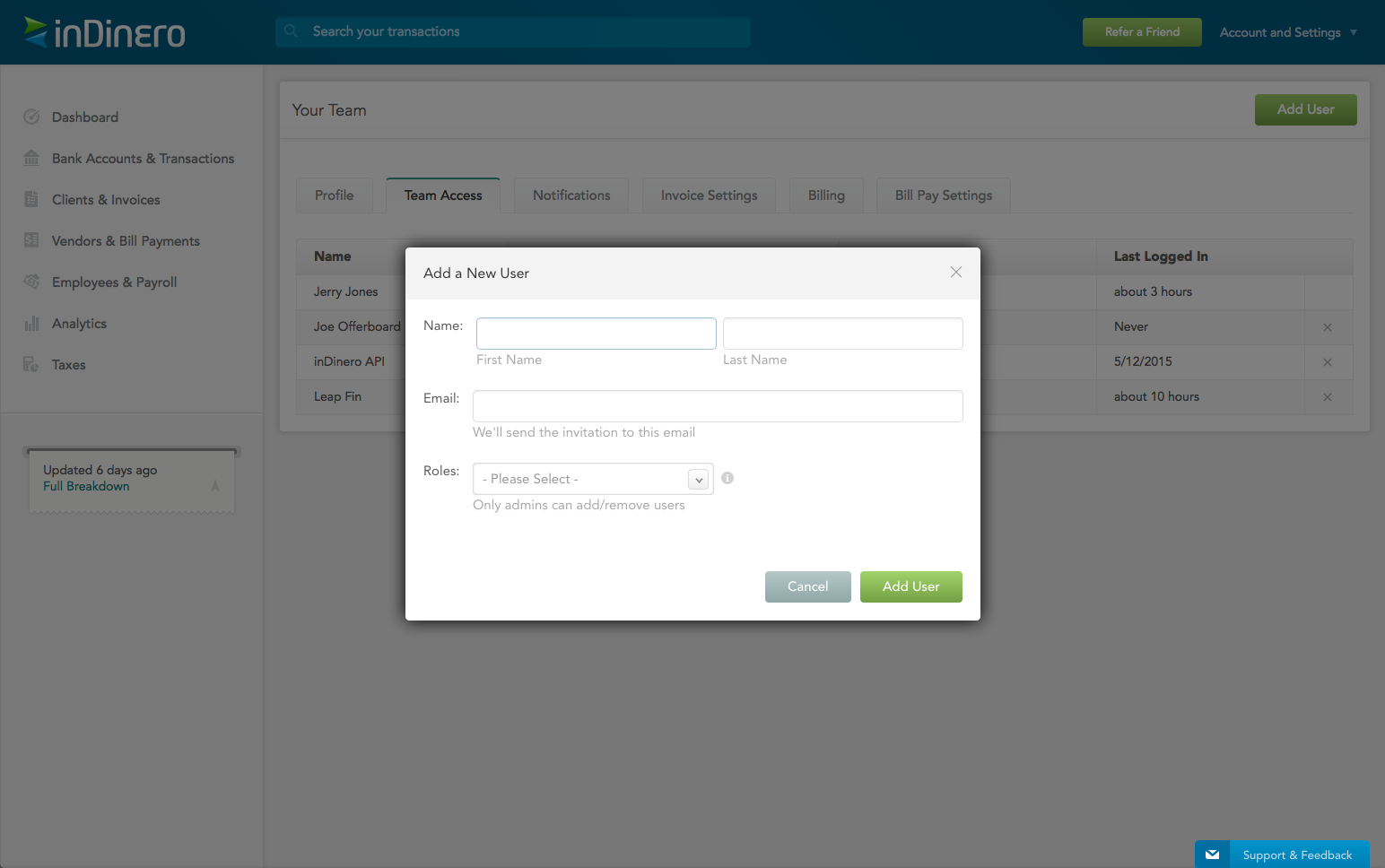 In your settings, select "team access" and then "add user" to get to this screen.
Great leaders delegate but still know what's going on with their company–we agree, which is why indinero can accommodate several users per account. You can give your employees differing levels of access based on their assigned responsibilities while still maintaining administrative control. Each role allows for different access to various features:
Admins can access every feature and add other users. These are your superusers–you and your most trusted employees.
Team Members have limited access and cannot add users. When "Team Member" is selected, you get to choose which areas of indinero (and which information) the user can access.
Receipts Only does not give the user access to indinero but will allow them to upload receipts to upload@indinero.com. This is perfect for employees who travel with the company card.
For more on permissions, head over to YouTube for a tutorial.
2. Reimbursement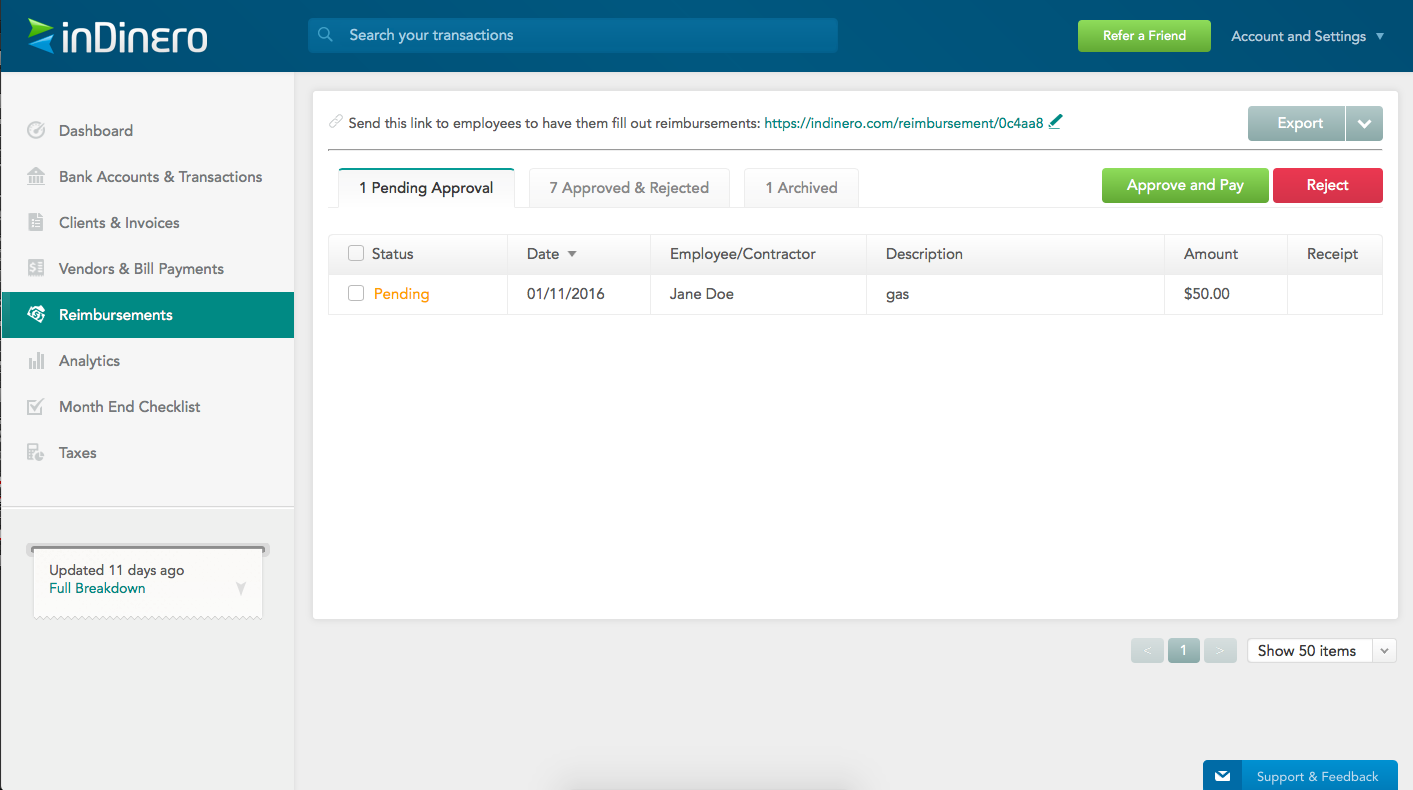 This link allows you or your employee to fill out the reimbursement form. It's found in the payroll feature.
From travel to client lunches, your employees have a lot of opportunities to rack up business costs on their personal accounts. Not only does indinero track these reimbursements in your transactions but we'll also send the payment to your employee on your behalf upon admin approval.
Watch reimbursements in action on our YouTube channel.
3. Receipts

Click the paper clip icon in the indinero transactions feature to attach a receipt.
Speaking of client lunches… The IRS recommends you to retain all receipts for purchases $75 and above, but where have you been storing those little slips of paper? Instead of shoving them in a shoebox, why not upload receipts to your indinero account? We'll also match those receipts to the corresponding transactions to make tracking your spending that much easier. So you can throw those crumpled pieces of paper into the recycling bin!
There are several ways that you can upload your business transaction receipts. You can either upload your receipt as an attachment from your desktop, or as a picture via the indinero mobile application for iPhones. Available on iTunes, the app is especially convenient for recording things like restaurant tabs from lunch meetings and events.
On the go but don't have an iPhone? Your service team can also upload your receipts for you—just email them to upload@indinero.com.
And here's a YouTube video on receipts.
4. Analytics
You don't need to be a CPA to understand these reports and analytics! We want to make understanding your financials as straightforward as possible to help business owners understand what's going on with their company's finances.
Of the analytics available through indinero, here are the three most important:
Profit and Loss Statement is a summary of the revenues, expenses, and costs incurred by a business during a specific amount of time–typically a fiscal year or quarter.
Balance Sheet is an assessment of the assets, liabilities, and capital of a business at a certain point in time. This allows a business owner or investor to see what the business owns as well as what it owes.
Cash Flow Statement Just like the name suggests, the cash flow statement documents the flow of cash coming in and going out of the business. Lenders and creditors are especially interested in seeing a company's cash flow statement because it provides a glimpse into a company's ability to pay their bills and loan repayments.
Although the profit and loss, balance sheet, and cash flow statements are regarded as the most critical, there are other analytics that are important as well:
Cash Balance tells you how much cash you have–or don't have.
Cash Runway is the amount of time that your company could survive off its current cash reserves at current spending levels. This number represents a situation where your company no longer has revenue coming in–it's the worst case scenario.
Top Revenue lists the top five sources of revenue for your company.
Top Spending, like top revenue, details the top five areas of spend for your company.
When analyzed together, these reports go a long way in keeping you informed about the overall financial state of your business. They tell you how much money you have, how much money you've spent, and how much money you owe. Most importantly, potential shareholders and investors will use these reports to decide whether or not they want to invest in your company.
Find out more about analytics in this quick tutorial.
5. Invoices
Keeping your invoices organized and staying on top of outstanding invoices is critical to running a profitable company. Whether you are a product or service-based company, indinero has you covered. You can even customize your invoice so it has the look and feel of your own branding.
New Feature! Copy Invoice
Have a monthly subscription service or another type of recurring billing need? Now you can spend less time on data entry than ever before. We recently added a new "Copy Invoice" button for users to clone and send out an exact or edited copy of an invoice–perfect for your repeat clients.
Test drive invoicing features here.