Founders and business owners, this one goes out to you. Meet our friends at UpCounsel!

Every day, we have the pleasure of working with innovative startups that are making a true difference in the world around us. This Customer Spotlight, we'd like to introduce you to UpCounsel. They make it easy for you to find talented and local attorneys at an affordable rate.
Not only are they a customer of indinero, we're actually theirs as well! Having used their services, we just love what they have to offer. For those of you who have felt the pain of spending more money than you should have on legal services…this is a spotlight you won't want to miss.
This is our Spotlight on UpCounsel:
Who are you, and what does your business do?
UpCounsel. We are the world's largest virtual law firm for businesses of any size. We allow businesses to get high quality, cost-effective legal services. While our lawyers serve as outside general counsel to many companies, we also assist with specialized legal work like IP, immigration, commercial contracts, litigation, and much more.
How did you get here?
We started UpCounsel 2 years ago. We realized there was a whole new world in B2B services coming and legal was likely to be one of the major areas to change. One month after launching, we applied to AngelPad in San Francisco and got accepted. Since then, our company has continued to evolve in so many exciting ways.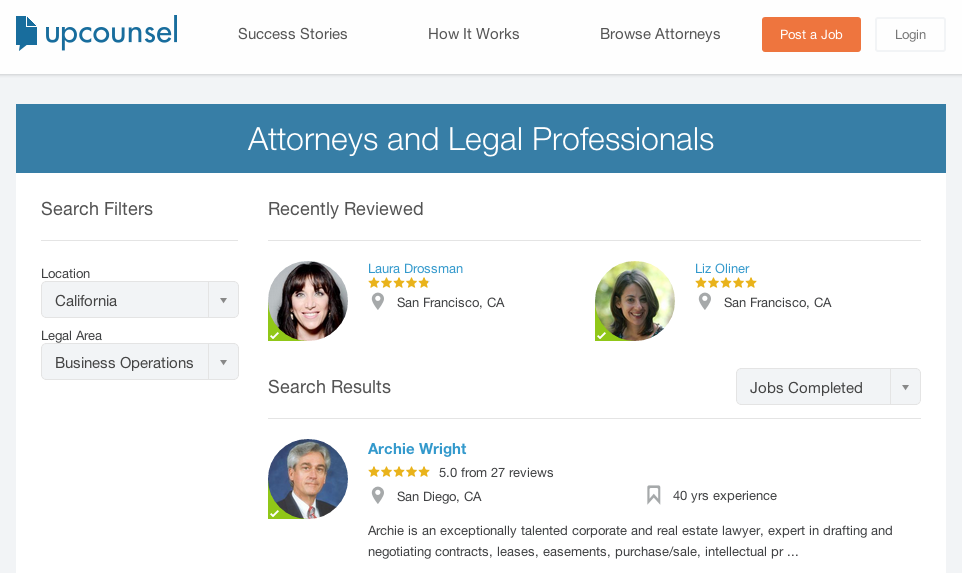 Tell us about your mission. What is your business passionate about?
Our mission is to make the legal experience remarkable. If you make legal services high quality, transparent, and cost-effective – then you empower business owners to make better decisions to ultimately allocate more capital towards hiring, marketing and sales – all great things for healthier businesses, which is what we are passionate about.
Tell us about your product/service!
High quality outside general counsel legal services at half the price of traditional law firms. The lawyers on UpCounsel are former BIG firm lawyers, from top law schools, and former general counsels that now practice on the UpCounsel network.
How does your product/service impact the world?
By delivering transparency and reasonable fees for high quality business legal work. We are empowering businesses of all sizes with a robust legal infrastructure and more capital to allocate to growing their company from the savings they would not get from the big, traditional law firms.
What are your favorite things about your industry:
It impacts every aspect of our lives
It's old, stogy and in great need of innovation
It's a BIG industry
Top 3 challenges in your industry:

Heavily regulated
Trust
Transparency
When did you start working with indinero and how did you hear about us?
Almost 1 year ago. We were introduced to indinero through AngelPad, as several AngelPad companies were using them.
Why did you choose indinero? What was the selection process like?
Wasn't much of a selection process – pretty easy decision for us. We liked that they handled payroll and helped to monitor our finances.
What are three ways having indinero impacts your business?

Frees up our time
Employees are happy
Worry free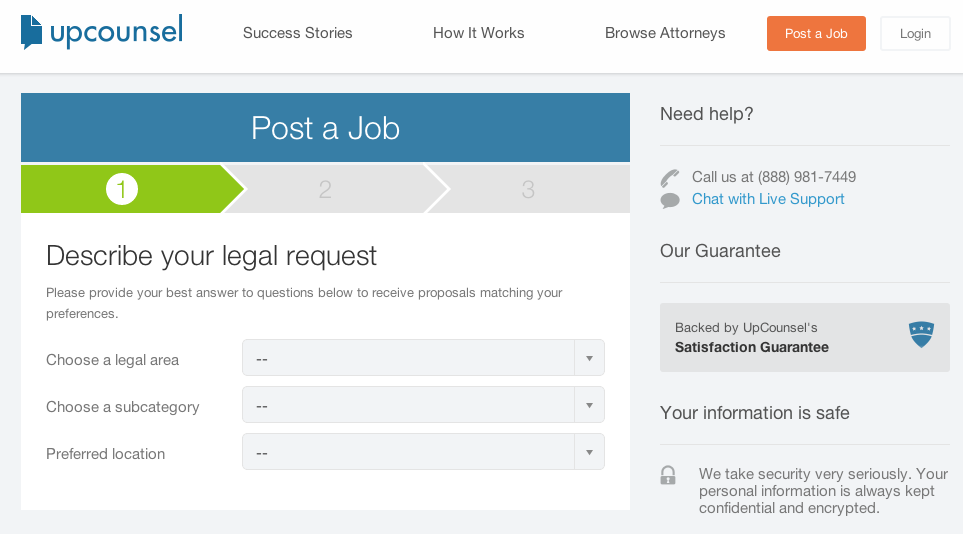 How do these things help you accomplish your mission?
indinero takes the hassles out of managing our back-end office. We can spend more time focusing on our product and customers which is allows to create a remarkable legal experience.
What is the most important value indinero brings to your business?
Peace of mind!
Where is your company headed and how does indinero fit into that vision?
UpCounsel is growing rapidly in both revenues and employees. We plan to double our headcount over the next 6 months and then likely again in the following 6 months. With a solution like indinero we can focus more on quarterbacking this growth and not worrying about the daily admin related tasks.
What would you like to share with our audience?
indinero rocks! We are excited to be alongside them in a new wave to SMB products that make it easier to run a successful business.

If your company doesn't want to overpay on your legal fees anymore and would like work with quality, helpful, and friendly business lawyers – we invite you to work with UpCounsel!