The invention of smartphones forever changed the way we work with each other. Information is available anywhere we want it, whenever we need it. Whether it's finding a decent cup of coffee within walking distance or filing your taxes, everything can be done on the move. And when you're a busy startup founder, having your business operations available at your fingertips means less time doing menial tasks and more time finding that secret sauce to success.
Of course, there are just some things that can't easily be done on a tiny, 3 inch screen—building a financial presentation for your next board of directors could be tricky when your thumbs are bigger than that microscopic keyboard. Yet, when it comes to resolving basic accounting tasks or asking a question about your business taxes, accounting apps just make sense.
As the state of technology continues to evolve, indinero looks ahead, ensuring businesses have what they need to succeed, from mobile apps to CFOs available to guide you through your next funding round.
Get work done faster with the indinero mobile app
As a startup founder, you can't be tied to a desk. Between demands from employees to strategizing your next product release, your ability to conduct business is impeded by staying in one place. To free up your time and liberate you from your desk, we're launching a mobile app in conjunction with our latest feature release, the To-Do List, an all-in-one tool for checking off financial, well, to-dos.
Here's a little about what's to love about indinero's iOS app:
Review and approve transactions on the go
Unlike bot-run accounting apps, indinero accountants are here to review, comment on, and flag transactions for you. This will maximize tax write-offs as well as complete transaction categorization to accurately represent your business—because you shouldn't have to do the books to understand what they're telling you about your business.
With the To-Do List, you can say goodbye to toggling between screens to resolve a flagged transaction. We've taken a great feature and made it even better by simplifying the workflow—no more switching between tabs! Now you can flag and review multiple transactions simultaneously with one To-Do, plus attach documents and approve all in one step.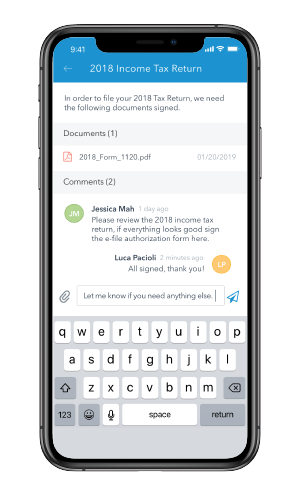 Easily collaborate with your accounting team
We're closer than ever before—and who says you have to be together to work together? Instead of using email, spreadsheets, or other tools to send an accountant or tax manager important questions or documents, To-Do's new commenting feature (plus document upload) lets you ask your financial team a question about a to-do or send a requested doc and see the response right there in the to-do.
Stay updated and get work done
Stop twiddling your thumbs waiting to hear back about important financial info. Push notifications and summary emails keep you posted about where your financials are at, wherever you are at.
Advancing tech means faster work and lower costs
So many software companies today claim to be revolutionary or groundbreaking. As a business owner, you don't care about the latest breakthrough in technology if it doesn't directly impact your bottom line. And why should you? At indinero, our mission is to make running your business easier, and technology is one way we do that.
Our software leverages technology to reduce your operating costs. We reduce monotonous bookkeeping tasks through our software to provide you real-time visibility into your financial health. But it's powered by accounting and tax experts who know your business, a great reminder that people help power technology.
Financial reports and insights are key to informed decisions. Technology moves at an exponential pace, and quick decision-making is vital to success. You don't have time to sift through pages of reports to find the nugget of info you need to make a quick call. With our real-time software, you can see your cash runway and recent spending with one glance, to give you the confidence to make faster decisions and get on with running your business.
We'll get you to that next stage
The To-Do List and our accounting app are just the first steps in our vision of making your life easier. This year brings with it integrations, advancements in receipt uploads and invoicing, and generally a better way to run your business. We'll help you achieve your vision, whatever that may be.
Grow your startup from the palm of your hand with indinero's mobile app, available on iOS or Android phones! If you already have an indinero account, simply download the app in the App Store or Google Play to get started.
Not an indinero client but ready to get started with our accounting app? Talk to an expert today to get set up!
Quick Note: This article is provided for informational purposes only, and is not legal, financial, accounting, or tax advice. You should consult appropriate professionals for advice on your specific situation. indinero assumes no liability for actions taken in reliance upon the information contained herein.