Cinnamon Williams has come a long way from her childhood in the Alaskan wilderness without electricity or running water. Now, as indinero's Enterprise controller, she manages the financials for some of our most complex clients. But the resourcefulness and work ethic that she learned in Alaska shine through in every interaction she has with her customers.
Around the company, Cinnamon is known for coming in early, staying late, and the warmth and enthusiasm that all of us hear in her voice when she's speaking with her clients. Cinnamon is an expert on the minutiae of accounting, but she also knows her clients and what makes them tick. And she speaks of them as friends.
"I work long hours because I love my clients and I want to see them succeed," she says. "I really feel like I'm a member of each of their teams."
Cinnamon's dossier highlights what her colleagues have known all along: She doesn't do anything by halves—whether it's skiing, getting financial accounts in order, compiling a bucket list, knowing her clients, or appreciating rock and roll.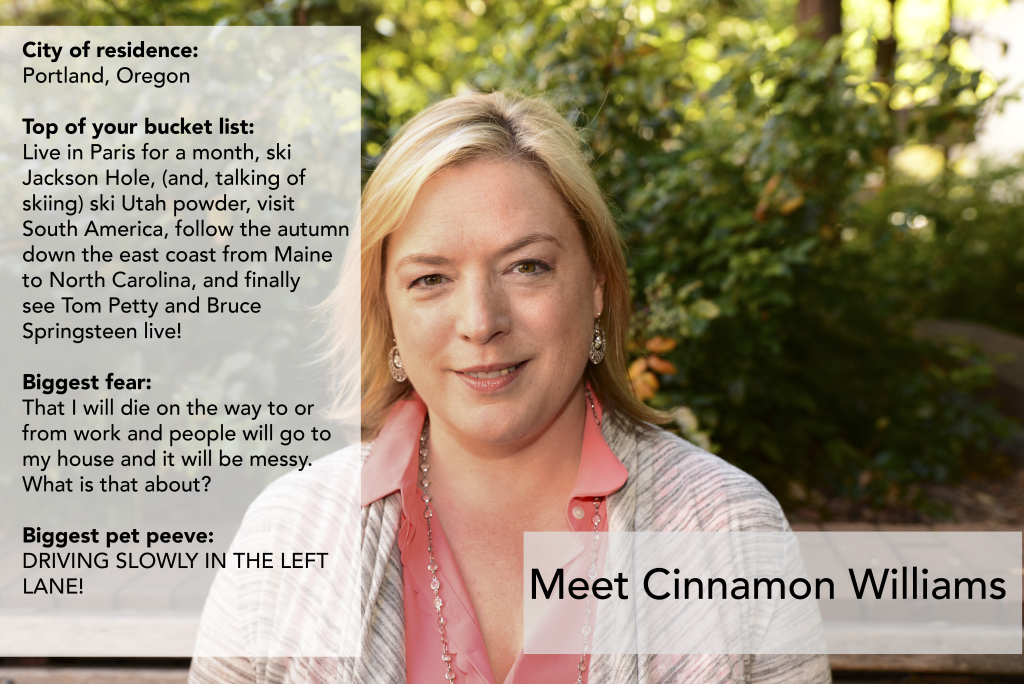 What do you like best about working at indinero?
People. Absolutely: customers and colleagues. Everyone here is so diverse with opinions, interests, and adventurous spirits. And everyone loves music! Different types and different styles, passionately. I love this. Music is such a big deal to me.
What do you think would make indinero better?
Two things: We need to improve onboarding and we need more accountants. Improving onboarding is definitely a priority of the team, but it is still a work in progress. We need to establish a consistent, effective way to get new customers up and running faster—they need their financials quickly so they can make good decisions. And obviously more accountants will make faster onboarding possible!
When you're not pouring over our client's financials, what do you enjoy?
SKIING!, concerts, and drinking wine.
What's your best vacation?
Do I have to pick one? I got to work with dolphins in Hawaii for a summer when I was 19 (total back-to-school special—I fell in love with a big blonde surfer "dude" who "totally" broke my heart). I also did the whole backpack through Europe thing when I was in college, and on one of my most recent adventures, I spent 10 wonderful days in Turkey, which blew my mind.
When are you happiest?
There are two different types of happy.
A heart-full happy—that's when I'm with my immediate family back home, drinking wine and discussing everything under the sun while my niece and nephew compete for my attention. Sounds simple but I have to say, nothing makes my heart more relaxed, happy, and content than that.
Pure ecstasy—that's when I'm on a steep mountain, going downhill on two sticks in amazing conditions!
What are you proudest of?
Overcoming my mediocre start at life and really changing my approach to living life. When I was in high school, it was all about the moment and I thought I was stupid (absolutely no reason for this, it was ridiculous). I was afraid of looking bad and making a mistake. Tackling the fear of failure was huge for me. Allowing myself to fail and challenge who I am made me the human I am today and I am really proud of that. If you had told me at 16, that I would have an education and career, I think I would have looked at you like you asked me to recite a calculus equation.
Favorite song, movie, book, or comedian:
No fair… I have so many!
Songs:
Jeff Buckley — "Last Goodbye"
Beatles — "While My Guitar Gently Weeps"
Talking Heads — "This Must Be The Place"
Foo Fighters — "Hero"
Ben Harper — "Diamonds on the Inside"
Nas — "Hip Hop is Dead"
Movie: Swingers or True Romance or Snatch or So I Married An Axe Murderer (all of these are from the 90s… hmmmm).
Book: The Winter of Our Discontent or Jarhead or Girl of the Limberlost
Comedian: Bill Burr and Marc Maron
5 things you personally like:
Foo Fighters (passionately)
Dark roast coffee
Sunday mornings
My iPad (don't judge)
My Subaru XT—I love my freedom… a true A'merican
3 things you don't like:
A closed mind
Beets and goat cheese…together, separate…doesn't matter…I really, really don't like them.
Unbearable heat (for an Alaskan that is anything above 85 degrees)
What's your favorite memory?
When I was kid (without the running water and electricity), my stepmother would read to the whole family after dinner. She read all of the Hobbit and Lord of the Rings books, Watership Down, etc. It was great. Dad would be in his rocking chair, I would sit on the side of the couch, and my brother would nuzzle into his mother and she would read for an hour or so every night. It was magical.
Either that… or the time when David Grohl almost touched me. You know, because it equates. 🙂
If you could meet anyone (dead or alive), who who it be?
My mother. She died before I got to know her. I mean, it isn't exciting but I really would like to just spend an afternoon with her.
That or Abraham Lincoln… and tell him not to go to the theater on April 15, 1865.
Learn more about what it's like to work at indinero!
{{cta('9f2972ee-83fe-42fa-8da7-f71907eedd42')}}