Did you know that 40% of small business owners spend more than 100 hours a year managing federal taxes alone?
We know small business owners work long hours, so that's about two workweeks that nearly a quarter of you aren't growing your businesses, meeting with customers, or guiding your employees. Taxes take so much time that more than half of you say that the time it takes to manage taxes is worse than paying taxes. (Source: National Small Business Association, 2014 Member Survey)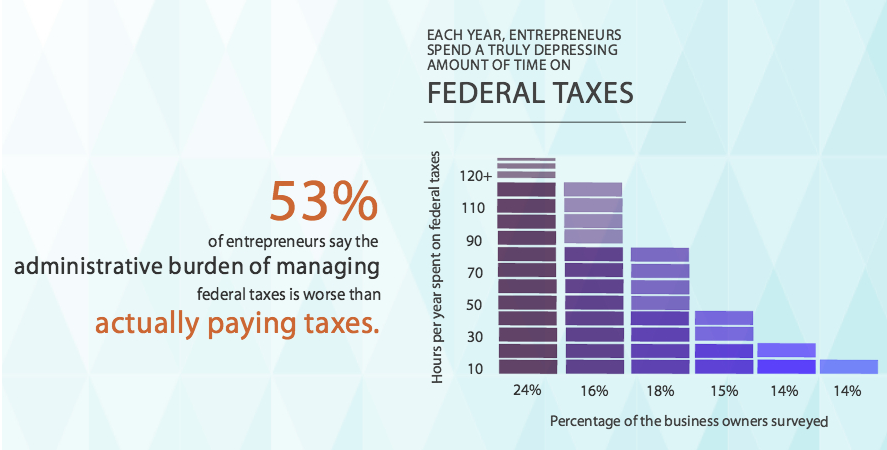 Frankly, we think that's ridiculous.
We sat down with our tax experts to identify the major hurdles that make tax season so challenging for so many small businesses. Among them:
Lack of awareness of certain taxes that need to be paid
Missed filing deadlines
Inefficient back-and-forth with a CPA as business owners track down reports and information at the last minute
Missed opportunities for tax deductions and credits
Inaccurate bookkeeping throughout the year
Business owners who do their own taxes
The tax code is complicated and constantly changing, so we always recommend that small businesses work with a tax accountant who specializes in their type of business. But there's a lot that small business owners can do in advance to maximize their tax savings and streamline the process of working with their CPA.
To help you conquer these barriers and achieve maximum tax-filing efficiency, we put together The Entrepreneur's Business Tax Pack.
Three Essential Resources for Small Businesses That Want to Save Time & Money on Taxes 
[Checklist] Getting Your Books in Shape Before the End of the Year—a handy checklist that guides you to the financial reports you'll need to file your taxes and claim your deductions.
[Guide] Tax Strategies for Entrepreneurs—eight steps you can take right now to save on your business taxes each year.
[Workbook] Fill Before You File—organize your data so your tax preparer can help you avoid potentially painful fees and penalties.
Quick Note: This article is provided for informational purposes only, and is not legal, financial, accounting, or tax advice. You should consult appropriate professionals for advice on your specific situation. indinero assumes no liability for actions taken in reliance upon the information contained herein.