Small businesses must transform themselves to keep up with ever-changing technologies moving the world forward. It's vital to their success in a competitive business landscape, and it's also crucial to the success of the greater economy. According to the Small Business Administration, small businesses accounted for 63% of net new jobs from 1993 to 2013.
With that said, small companies can get a step ahead of the game by budgeting to take advantage of changes in their industries. Here are five small business trends that will make a splash in 2018.
2018 Trends Small Businesses Should Start Planning For Today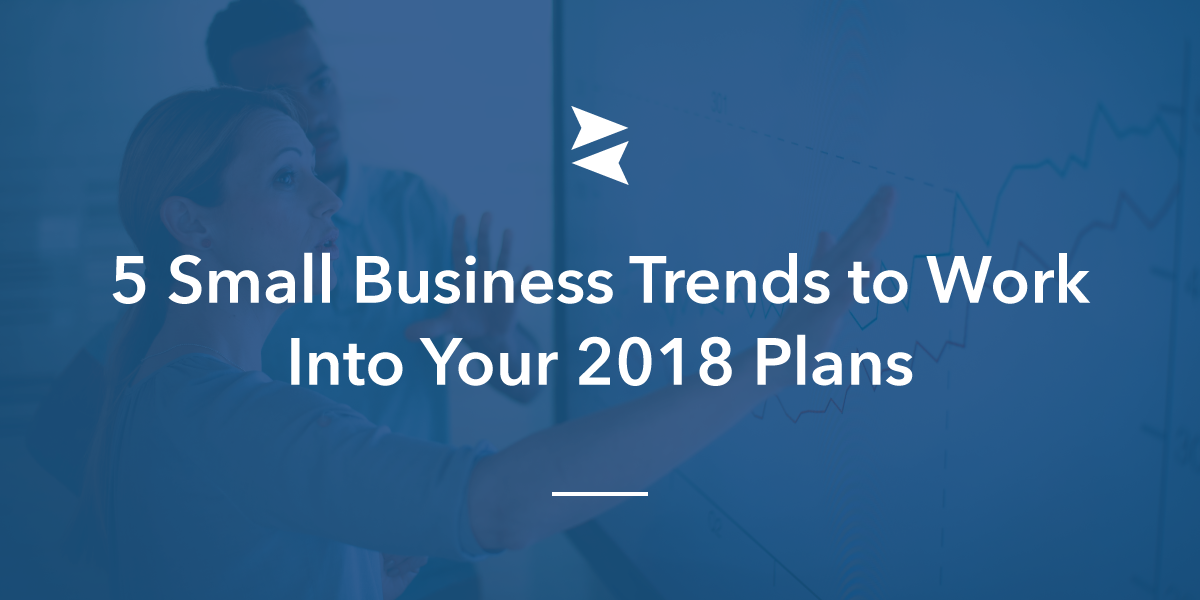 1. Merging online and offline customer experience
You can't just be a brick-and-mortar store or just a web-based company. You have to be everywhere. But how can you merge online and offline experiences?
Companies must get creative. A good model is food trucks, an industry which achieved a growth rate of 7.9% from 2011 to 2016. They use social media to inspire offline engagement (e.g., come to our location today and get some delicious food).
Additionally, technologies like the internet of things (IoT) make it possible to track and interact with customers anywhere. In 2017, Gartner estimates there are 8.4 billion IoT devices are already in use, impacting everything from logistics to the customer experience. For instance, retailers can employ connected devices to target customers, and tailor offers—before they go back online and purchase the same thing for cheaper.
In 2018, you'll see more companies attempting to merge online and offline to create an omnichannel experience. That means adopting the right technologies and employing the right marketing tactics to meet your customers' needs.
2. Experiential marketing takes over
Content marketing has already cemented its place in the marketing world. 2018 will be when experiential marketing takes off because companies are figuring out that experiences build value.
According to research from the Event Marketing Institute, 74% of consumers have a more positive opinion about a business after an event or brand-driven experience. Clearly, small businesses would be wise to dive into experiential marketing.
This is also something that can be done—or at least started—with a limited budget:
It doesn't have to be anything glamorous, like sponsoring a music festival. In fact, starting with a small-but-targeted approach can win you major points for authenticity. You just have to provide an enjoyable or positive hands-on experience.
For example, if a small business wants to involve the local community and help charities, it could take inspiration from Google's Impact Challenge in 2015 and do something similar on a smaller scale. The tech giant directly asked people where they should donate $5.5 million dollars through online polling and at interactive posters around the Bay Area. Google created a branded hashtag for the event to increase engagement.
Overall, this enabled Google to do something good, while improving the perception of the company.
3. More millennials in leadership
Companies always seem to be discussing how they can better target millennials. That's why you may have read articles about why millennials don't buy houses, life insurance, or Big Macs.
In addition to preparing for a millennial-dominated market, now's the time small businesses should prepare for millennial leadership.
After all, millennials became the largest generation in the workforce in 2015. By 2025, they'll represent 75% of the workforce. Knowing this, 2018 will certainly be a year in which more millennial professionals step into leadership roles.
Even if you're company isn't planning a leadership change soon, it's smart to start investing in training your promising talent now. Millennial team members want to learn and grow, with 87% of them viewing development as important to their jobs. By building millennial training programs into your human resources budget today, you'll be ready for the future.
As Jeffrey Hayzlett, a global business celebrity and former executive, notes in an article for Entrepreneur, "Plan ahead. Give your young employees the tools to be leaders now. Don't wait until you have a void to fill to train them. That's valuable time you'll be wasting."
4. Chatbots keep chatting it up
Artificial intelligence (AI) has arrived. With new capabilities like natural language processing advancing chatbots, these machines may be the most important AI trend for small businesses.
Call any large company's customer service hotline. You'll see chatbots have already become a ubiquitous part of operations. It's because they reduce costs and solve issues quickly.
Yet, there is so much more a chatbot can do for companies, even small businesses. Most notably, chatbots gather data, giving companies unique insights into clients. Small business owners can use such information to customize products or services.
Chatbots can also engage in conversational commerce (a term invented by Chris Messina of Uber). For instance, Chatfuel gives small businesses the ability to build a Facebook-ready chatbot in minutes. Chatfuel's bot engages with customers, sending them applicable information and asking questions about items. Businesses can add a payment method into the chatbot, allowing customers to make purchases without contacting any human at the business.
Considering the potential benefits of chatbots, it shouldn't come as a surprise that 80% of businesses hope to use chatbots by 2020, per a BI Intelligence report. Once you find the right chatbot provider, you'll need to budget for subscription costs and possible implementation fees, but you can more than likely justify compared to what it would cost you to hire additional customer support reps. Expect a large increase in small businesses utilizing the technology in 2018.
5. Financing with cryptocurrencies
You've probably read about Bitcoin's meteoric rise in 2017. It doubled, from $2,000 to $4,000, in just one month during the summer. The cryptocurrency even eclipsed $5,000 in early September.
But we're not talking about Bitcoin as a trend for small businesses. We're talking about how the technology supporting Bitcoin, blockchain, can revolutionize the way small businesses obtain funding. Blockchain is a constantly growing list of records, called blocks, which are linked and secured using cryptography.
Specifically, look out for more small businesses to move real-world assets onto blockchain in order to make funding faster, cheaper, more accessible, more secure, and more transparent. This process is called tokenization—or converting an asset, like cash, stocks, or gold, into digital tokens on the blockchain. Those assets would back these tokens which will likely impact your budget and your financial statements.
An exciting example of funding obtained through tokenization is Unikrn, an esports betting platform. To raise capital, the company announced the sale of its cryptocurrency, UnikoinGold. During presale alone, Unikrn raised $15 million, with contributions from famous investors like Mark Cuban and Brock Pierce.
This currency craze is also popping up in the world of crowdfunding. Initial coin offerings (ICOs) combine the benefits of crowdfunding and blockchain technology, and very well could transform how small business get capital.
Going forward: 2018 and beyond
Success in the business world means looking ahead. By looking at these important trends (and others), you can figure out how to position your business for success not just in 2018, but beyond. The most important thing is knowing what activities are fitting and financially feasible for your business, which starts with forecasting and creating the right budget.
If you're an indinero client, be sure to talk to your team about working these trends and activities into your business's 2018 budget. If you're aren't working with indinero, don't worry—we have something for you too! The indinero Guide to Building a Small Business Budget includes our tips for creating a lucrative business budget. Be sure you have a copy when you go to start mapping out your 2018 plans.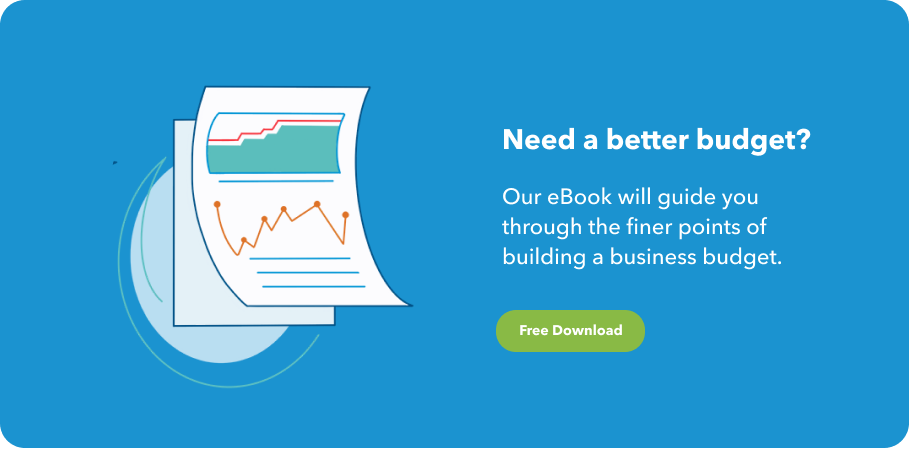 Quick Note: This article is provided for informational purposes only, and is not legal, financial, accounting, or tax advice. You should consult appropriate professionals for advice on your specific situation. indinero assumes no liability for actions taken in reliance upon the information contained herein.