When you're a writer, sometimes you have writer's block. In fact, if you've ever written an essay back when you were in school, you might be familiar with the concept. And while some editors will graciously give you an extension, most are sticklers for timely, well-written content. However, when it comes to filing taxes, even the most notoriously fanatical disciplinarians, the Internal Revenue Service, realizes that excellence takes time.
Yes, we all know the IRS as being a cold, phlegmatic organization, which is why offering a six-month tax filing extension with no strings attached can seem too good to be true. You might be thinking to yourself…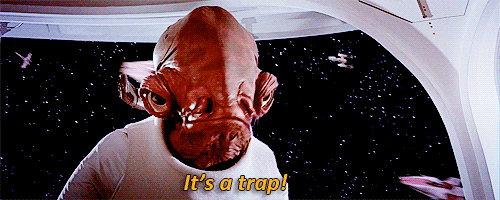 But this is far from a trap. In reality, the extension is a major blessing for businesses—especially small ones—who don't have the time or resources to prepare and file taxes between the end of one year and the first quarter of the next.
The one scenario where time does not equal money
Once filed, the extension gives businesses a full six months after their original tax due date to file their taxes for the year. This means if your original due date is March 15 (the 2017 due date for Partnership and S Corporation 2016 returns), your extended date is September 15. If your original due date is April 15 (individuals and C Corps), your extended date is October 15.
The best part? There is no fee to file an extension.
You read that right. It doesn't cost you anything to extend your filing due date—just don't forget to pay your tax liability up front. And yes, this is likely the one and only time someone tells you that extra time does not equal extra money. In fact, taking the extension gives you more time to ensure your taxes get prepared perfectly so you can keep more money in your business's pocket. Which leads me to my next point…
Yes, you have more time, but use it wisely!
Like with any stretched deadline, the tax extension shouldn't necessarily be an excuse to procrastinate. Taxpayers should use those extra months to get every little thing that their CPA would possibly need for maximum filing efficiency.
How to spend your extra six months from the business tax extension:
First things first, close your books!
Do this right away. The sooner your books are closed for the year, the sooner you'll have accurate financial statements to rely on while you prepare your taxes. This means you'll have both your balance sheet and cash flow statement to determine your liabilities, stakeholder equity, and company's net income—all useful things to know for tax purposes.
You'll also be able to use your profit & loss (aka income statement) to organize your revenue and expenses for the year, determine your bottom line/taxable income, and identify opportunities for tax deductions and credits.
For administrative purposes, if you fail to properly close your books at the end of the year, you'll leave your business in jeopardy of recording a transaction in the wrong year. As you can imagine, this can ripple into serious tax-related headaches in the future.
Go through your year with your CPA:
If you don't already have a year-round accountant who also prepares your company's taxes, make sure you sit down with a CPA and go through all of your spending and activities.
Public accounting and tax professionals are knowledgeable about the tax code and also privy to what other businesses are experiencing.
With both their ears listening to your company's story and their cerebellum firing on all cylinders, they should be able to recall from experience and apply their wealth of wisdom to your unique business. Think of it like having your own helpful spirit guide along the way who knows how to get the most out of your business's tax return.
Identify your filing responsibilities and get familiar with the right forms:
Your company's filing responsibilities all come down to the way you do business. Essential factors influencing business tax duties include entity type, location, industry, equity landscape… to name a few. From there, there are rules for the way to proceed with your filing and what forms you'll need.
To start the process, use this "Fill Before You File" workbook as an icebreaker. This fillable PDF gives you a starting place to organize your company's basic information and goes over the initial information you and a CPA will need to get started while uncovering what your business entails.
You can also start learning more about filing taxes in the states your business has tax nexus here and the fundamentals of sales tax in this article (especially helpful for online retailers who sell goods across the entire country).
If you have any foreign accounts, partners/shareholders, investors, etc., check out this article for a detailed explanation of filing obligations for business with international financial activities.
This brings up another good point to address: Some states will recognize the extension if you file it on a federal level (with the IRS), but some will not. (Psst! Some states don't even have income tax at all). In the case of the latter, you will be required to file an additional extension, the IRS has those states and their associated forms listed here.
Look for retrospective tax-saving strategies: Depending on the nature of your business (entity type, accounting method), you could still have time to take advantage of certain tax-saving strategies. Be sure to discuss your options for retirement planning and employee bonuses when you sit down with a CPA.
Be Warned:
The extension does NOT give you more time to pay.
Like I said before, the IRS is strict, and this is especially true when it comes to collecting. Even if you take advantage of the generous filing extension, profitable businesses still have to pay the liability on their taxable income on time for the original March/April due date. To determine the amount you owe before you file you can estimate using the IRS's guidelines & forms:
Sole proprietors, partners, and S corporation shareholders can use Form 4688 to estimate their tax liability as individuals involved with pass through entities.
C corporations use Form 7004 to estimate their tax liability when filing as independent business entities
Failure to do so can cost you a pretty penny in penalties that start accumulating the day after your due date. Right off the bat, your business will typically be on the hook for ½ of 1% of your unpaid taxes, per month along with federal interest plus an additional 3% compounding daily interest on the taxes you owe. And, if you were to miss your filing due date and fail to file for the extension the penalty is usually 5% of the unpaid taxes for each month or part of a month that a tax return is late.
Embracing the business tax extension–Where to start:
When it comes to running a business most entrepreneurs and executives would agree, any option that gives them time back is one they will grab with both hands. The first step is filing Form 7004 with the IRS to request the automatic extension for your business. As you file, be sure to keep an eye out for errors and completeness. The IRS will only grant your business the extension if you complete Form 7004 in full and pay any tax you owe.
The same time-saving sentiment could also be applied to the administrative tasks in your business's back office. In fact, it has: According to Anders Fredriksson, cofounder of social selling facilitation platform, ProLeads "As a startup founder you have enough to do to have to focus on accounting and taxes. Any tool that can help me spend more time focusing on developing my product and business is going to be a no-brainer." Read more about how indinero helped ProLeads' team of two bring their business from Sweden to the United States smoothly and compliantly.
Like ProLeads, all indinero clients benefit from comprehensive tax strategy, filing, and implementation and year-round accounting support, but we don't stop there. We want to help all founders and business owners get a grip on the complex world of taxes. Which is why we sat down with our in-house experts to pull together the many things small business owners can do in advance to maximize their tax savings our three piece Entrepreneur's Business Tax Pack including:
[Checklist] Getting Your Books in Shape Before the End of the Year—a handy checklist that guides you to the financial reports you'll need to file your taxes and claim your deductions.
[Guide] Tax Strategies for Entrepreneurs—eight steps you can take right now to save on your business taxes each year.
[Workbook] Fill Before You File (remember this one?)—organize your data so your tax preparer can help you avoid potentially painful fees and penalties.
Quick Note: This article is provided for informational purposes only, and is not legal, financial, accounting, or tax advice. You should consult appropriate professionals for advice on your specific situation. indinero assumes no liability for actions taken in reliance upon the information contained herein.