Often, app fatigue gets pigeon-holed as a consumer problem. Sinform's latest review of mobile app usage reveals that the average person has 40 apps downloaded to their phone and uses 18 of them regularly. The rapid advancement of accounting software has led to the underutilization of resources. Not knowing how effectively accounting uses software (on-premises or in the cloud) is a costly business ops issue that your chief financial officer should monitor across the organization, especially in accounting.
How many subscriptions are on the books? How well does your company use apps? Finding answers to those two questions is the secret to overcoming app fatigue in accounting. Overcoming app fatigue in accounting will positively impact your entire organization.
Let's get a handle on what app fatigue looks like in accounting before we get into what your CFO can do about it, starting today (or tomorrow because you're reading this at bedtime on your favorite content aggregator app).
How did your Accounting team get "app fatigue"?
Apps that improve an accounting system's capabilities lead to the fear of missing out on the next best thing. That FOMO creates an opening for the technology to overwhelm your company's budget and your team. Why wouldn't a bookkeeper task a travel expense app to recognize and categorize receipts rather than spend time doing it by hand? If you have employees, pay bills, invoice, and have inventory, chances are, you are using more than a few accounting applications. You're certainly not alone.
The Digital Transformation of accounting and the industry's adoption of cloud accounting has raised the accounting software market to a value of $12 billion in 2020. There are hundreds of accounting software options because accountants have recognized that embracing technology is central to business performance. No doubt, you've encountered an issue that your accounting software rep can solve with a new integration or an app? On expert advice, you perform due diligence, adopt the new app, and train your staff.
Three moves to get rid of accounting app fatigue
CFOs that want to shake off app fatigue consider approaching app malaise as you would a physical or emotional exhaustion. These three moves will refresh how you view technology as a tool to achieve your accounting and business goals.
Move closer to technology
Embrace technology because it's everywhere, and it's forever. By accepting technology as central to the finance function, you will begin to see its advantages and explore the possibilities that software advancements offer.
Move (in a positive direction) with technology
Seek a balance between your organization's business goals and your technology budget. You want the benefits that automation brings to accounting but not at any expense.
Move away from more apps
Avoid the temptation to add technology in an attempt to stay competitive. Your accounting tech stack isn't more powerful the more you pile on top.
What can CFOs do to combat app fatigue in accounting today?
Moving away from "app sprawl," the growth of IT through adding applications, is easier said than done. How can CFOs make better use of the technology they already have?
CFOs examine how well your accounting uses technology
If you're reading this post, you probably don't have a chief information officer who would lead an examination of your accounting team's use of tech. Don't worry! Heads of finance can begin an audit of their accounting technology by asking a few questions to pinpoint underutilized software features and staff gaps in understanding. What is the purpose of the accounting software or app you currently employ? Does your staff use the accounting software to its full potential? Do you have any orphaned apps (apps with no apparent owner) or redundant apps?
On average, a company with 200-500 employees connects, in some way, to 123 apps. Sadly, management doesn't have clarity on how well the software is employed. According to SaaS management firm, BlissfullyTM, an employee can connect (i.e., usage, access, data sharing, etc.) with an app exponentially as the number of employees increases.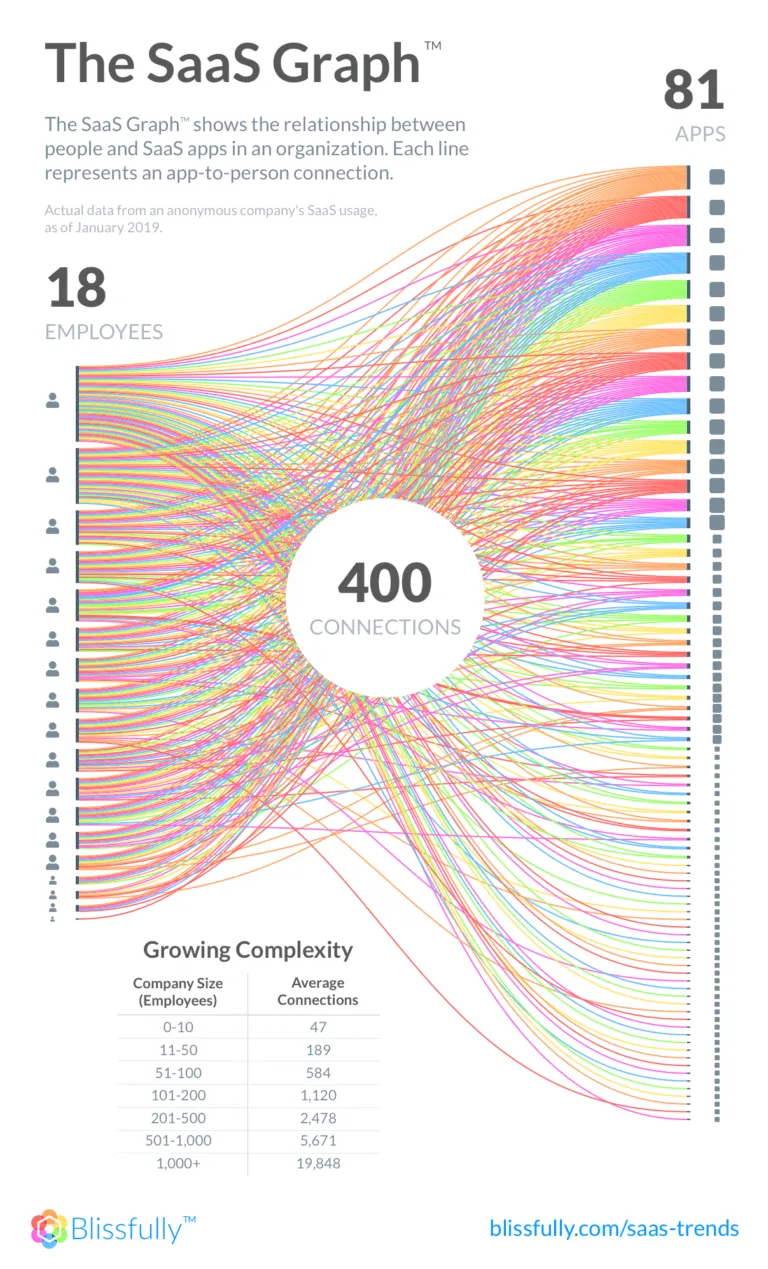 Review your findings with management and involve staff (end users) in identifying and addressing how to get more from the technology you have and what new functionality would best support them.
At the risk of being SaaS-y, avoid paying 100% for a tool you only use 30% effectively. The average cost for SaaS per employee is
CFOs explore integrations before new applications
Instead of adding another software application to your tech stack, you could look to Application Programming Interface (API). APIs enable data sharing between disparate software and are responsible for greater system integration.
The advantages of system integration include choice and price. Having choice means startups and enterprise solutions come tailored to meet particular life stages, industry, and accounting needs. APIs allow you to change your AP solution without giving up features and functionality that does work. Explore options that empower end-users to get more from disparate apps by using IFTTT (IF This Then That) and APIs before spending more on tech. You may already have the features you seek but do not know how to use them.
CFOs support training
Conducting an audit of your accounting department's use of accounting software will undoubtedly reveal gaps in understanding. You may need the training to go deeper into your existing technology or learn how to use a new integration or user-friendly automation such as Zapier. In either case, skill development is essential to a user's app adoption and realizes the ROI you are looking for from your technology.
CFOs with tech-savvy and accounting expertise
Consider hiring an outsourced CFO with expertise in accounting software. Finding a CFO with knowledge in accounting and tech can be challenging and expensive. An outsourced CFO offers your business insight into cloud accounting software, experience troubleshooting the implementation of new technology, and the credibility to advocate for investment in your accounting tech infrastructure.
"CFOs used to work in a desktop world, and now we are in the cloud. If I don't understand the accounting software ecosystem, I can't advise my clients." – Nicole WallaceCPA, Vice President of Services at indinero
How effectively your accounting team uses technology is pivotal to your business performance. Schedule a call with indinero to discover how our CFO services increase your business insights.
Quick Note: This article is provided for informational purposes only, and is not legal, financial, accounting, or tax advice. You should consult appropriate professionals for advice on your specific situation. indinero assumes no liability for actions taken in reliance upon the information contained herein.