3D Artists, you'll love this one. Art fans and collectors, you will too.
This Customer Spotlight, we'd like to introduce you to Favoritoys! Favoritoys uses a 3D printing process to create customized 3D figurines from photos and drawings. That's right. You dream it, they make it.
This week they are wrapping up an awesome Kickstarter Campaign to put out a limited edition set of "Art Toys" featuring four adorable renditions of Frida Kahlo. This campaign will help them test run their first large run of customized art toys.
Art lovers and techies, this is our spotlight on Favoritoys:

Who are you, and what does your business do?
We are Favoritoys and we're aiming to become the 1st 3D Printing Factory for designers, graphic artists and anyone who has a doodle or a drawing of a character and wants to bring it to life. Check the idea here: http://youtu.be/tordNUPAL04
How did you get here?
Well… man… it all started with Adam and Eve? Too far? Ok.
A year ago I (Rudy) had a meeting with Luis. In my spare time I do short films as a hobby and Luis did a poster of one of my shorts like 5 years ago. So I went to see him and he show me this customized Art Toys that he was making. He told me that business was doing quite well but that since he did everything and it was all handcrafted that we was letting go a lot of business. I had been into 3D graphics for a long time and I knew that 3D printing was becoming affordable. So I asked him, why don't we make a digital Factory using 3D printing? Luis didn't know anything about it so I explained and I told him, "if you let me, I can get funding so we can get a printer and figure out if we can create this 3D Factory". He agreed and in January 2013 we applied to a Business Accelerator, 500.co. After a couple of interviews we were 1 of the 18 companies selected over 300. A year later we're finally making the Toys using 3D printing.
We still in a very early stage, struggling and using our savings to sustain the company, but now that we've figured out a lot of things it seems that it is about to get quite interesting.
Tell us about your mission. What is your business passionate about?
Creation. We are creators. We love to see how a doodle becomes a 3D model, and then a new toy alive in our real world. We're obsessed with detail and with making things easy. And of course we LOVE TO HAVE FUN! So our mission is to deliver smiles around the world. And who knows, maybe in the creation of these characters we will find the next Mickey Mouse 😉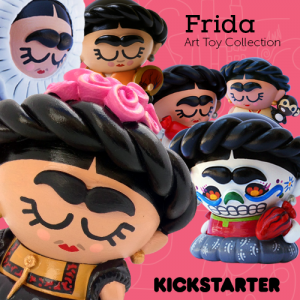 Tell us about your product/service!
We have 1 service that becomes a product. And 1 product. The service is for creative people that have an idea or draw of a character. We take it and create a Toy out of it. Then we become the factory of that person. He can sell 1 or 1,000. We make them on demand so they don't have to place big orders and waste their money.
The product is a customised art toy. You send us a picture, we make an Art Toy of you. Check our gallery
How does your product/service impact the world?
It does in so many ways. We bring to life ideas, we are an affordable factory for any creative people with a character. We give the tools to people to find inspiration. We employ highly skilled artisans in Chiapas that are losing their jobs because of globalization. And the most important thing: to make a Favoritoy we take what makes you unique. And once it sits on your desk you become your best friend, it is a little mirror that says "Smile, you're awesome".
What are your favorite things about your industry:
It is hype. It is all about innovation and is changing by the minute. It is the door to a new world that we haven't even experienced yet.
Top 3 challenges in your industry:

Most 3D printers are also startups.
Getting funds for these kinds of projects is hard.
Open Hardware, Software V.S. Closed architectures. We need to keep all open so we don't stop the pace of development.
When did you start working with indinero and how did you hear about us?
We needed to pay taxes and since we're not from the U.S. we were so clueless about it that we were kind of in shock. We have being working with InDinero since January 2012 and they have been extremely patient with us and helpful. And we found about InDinero through the oracle of Google 😉
Why did you choose indinero? What was the selection process like?
It was the skype call. We felt very confident… I felt that they were trustable and we are happy to know that they are. And we also loved the idea that we could quit the service any month, since we're still struggling with the company, this was very convenient.
Let's hope we don't get to that point :O
What are three ways having indinero impacts your business?
Well I can think of only one: we don't have to worry about taxes or paperwork.
How do these things help you accomplish your mission?
As we stated that we're all about Fun, InDinero takes the hassle and the boring part out of the equation letting us do the Fun part 😀
What is the most important value indinero brings to your business?
Order and peace of mind.
Where is your company headed and how does indinero fit into that vision?
Check our Kickstarter video because Luis is right "we want to conquer the world". Right now we're reshaping the company. We are in the middle of the creation of Favoritoys 2.0. So you will soon hear from us and our new plans and we hope to have a loving and lasting relation with InDinero.
What is one thing you would you like to share with our audience?
Please! Back our project in Kickstarter!! This will help us to keep the boat floating for a couple of months while we release Favoritoys 2.0.