When people think of coworking spaces, the image that comes to mind may include solopreneurs and freelancers working amongst each other in an open space layout, but, the fact is, startup teams and even major Fortune 500 businesses are also thriving in shared work environments.
The commercial office space as we know it is transforming into a new, more collaborative workspace design and now many growing businesses and even enterprise corporations are fueling the demand of the coworking trend. Let's dive into some of the value that innovative startups get from working out of shared workspaces.
Shared Offices Encourage More Human Connection Which Also Increases Productivity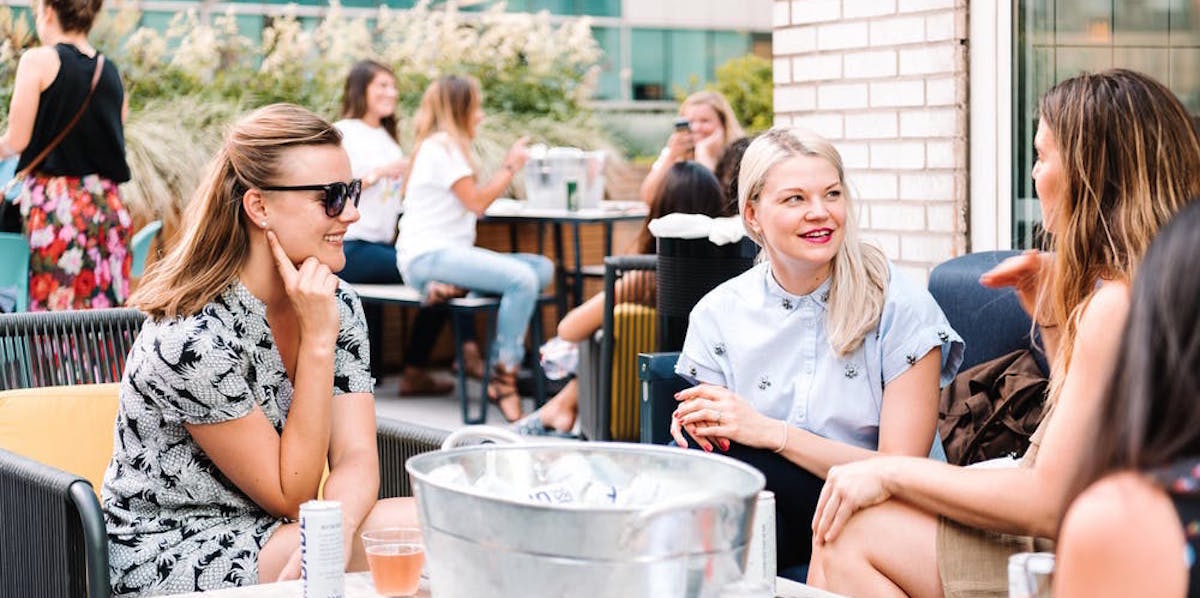 One of the most alluring factors of coworking for independent contractors has always been the motivation that comes from being around other like-minded professionals and feeding off of their energy—it's contagious. These positive effects translate well to bigger teams too, offering an outlet for ambition as well as diverse thinking and inspiration through a built-in network.
Networking That Stimulates Organic Business Growth
Even if your startup was to rent a traditional office space, you would need to constantly host or travel to events to get the same networking opportunities that you would working from a shared office space. Any given coworking office houses dozens of startups from all kinds of industries. This is especially handy for growing teams looking to hire new talent or business-to-business (B2B) brands looking to build awareness or get new clients or beta testers.
From product launches to cheese tastings to mixers, it can be a good thing for the brilliant introverted technologists to get out there and meet people without a ton of pressure. One of the best aspects of working in a community environment of entrepreneurs is the ability to mentor and pass on knowledge that has been gathered from experienced professionals to the less experienced startup founders. And always remember that networking is a learned skill that you will always need in business and in your personal life to get ahead reach success.
Some spaces offer in-person as well as digital networking. Members of one of the largest, most well-known coworking spaces, WeWork, have an internal app where community managers encourage members to network through and post project requests, such as "I am looking for an accountant to help with my company."
Some places like Primary Coworking in NYC have yoga studios in the building where people exercise in the middle of the day together. And, even if it's all business from 9 to 5, most coworking spaces have fun happy hours where you can cut loose and make some new friends.
Look the Part with a Polished Space that Impresses Clients, Job Candidates, and Investors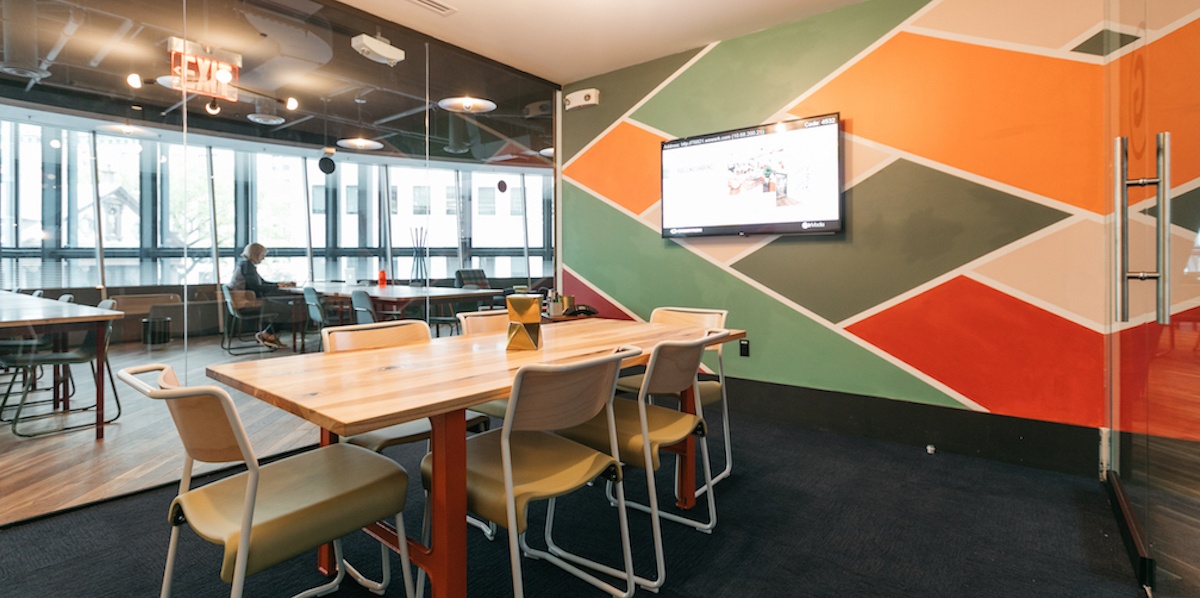 When you're in the first few years of major growth activities—whether it be by closing new business, or hiring a team—having a professional meeting space is key. Most coworking spaces have raised millions from investors themselves, so they understand how important it is to design buildings with high quality meeting spaces and friendly community managers, fruit infused water, and so on to build the right ambiance.
Bringing guests who may want to do business with you to a space that is clean, stylish, and fully-equipped with all the right technology for presentations and conferencing, can build trust and confidence—two things that can make or break a deal.
Coworking Offers Affordable Flexibility As You Grow Your Team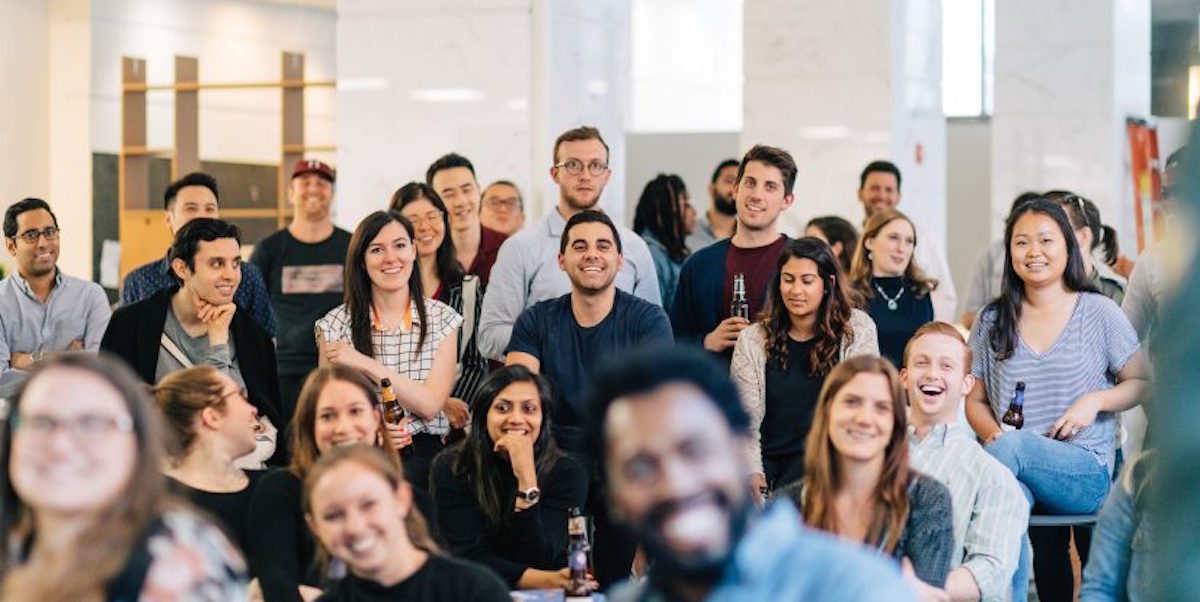 When you first start on the path to entrepreneurship, you may have a cofounder and a few employees, but you probably don't have a huge budget to sign a long-term office lease and hire a huge team. Before your company starts showing traction in sales, users, or investor interest, you will need to keep your cash burn rate low. The best way to do that is by controlling your costs.
Take Advantage of Low-Commitment, High Convenience
Most coworking spaces offer monthly memberships and private offices with amenities such as high-speed wifi, free coffee, video conferencing, meeting rooms, partnered business services, and high-tech office infrastructure all while keeping your startups overhead costs to a minimum.
Catering to your business's current state is important, but if you visualize a lot of changes or growth in the near future, it might be a wise idea to rent an office space on a month-to-month membership basis that can be canceled or upgraded easily. Long-term leases just don't cut it. Scale up or down as your business needs change.
As previously mentioned here and in my recent piece for Entrepreneur, even larger corporations have been getting into the coworking game to help them check all of the boxes: Lure in top talent, keep tabs on their competition, and find acquisition targets.
If you are an up-and-coming startup looking to attract software engineers or designers, renting an office space at a hip coworking space is a great way to mingle and attract super smart and talented workers who might be looking for more of a challenge than a cushy corporate job can offer.
According to a report from the Real Deal, WeWork has been luring in high-growth startups by giving up to 50% off discounts for the first three years of their lease. Other discounts have included free upgrades to larger spaces and even an 25% off the first six months. These kinds of incentives make renting from coworking spaces very attractive for growing venture-backed companies.
Remember, Coworking Doesn't Mean You Can't Customize
Last January I went a fun startup mixer hosted by mobile analytics company Mixpanel. (As far as startups are concerned, Mixpanel is practically a unicorn in funding status.) After expanding from San Francisco to New York to be closer to their enterprise clientele, they moved into a beautiful 5,000 sq. ft. private custom built space occupying an entire floor in one of WeWork's buildings.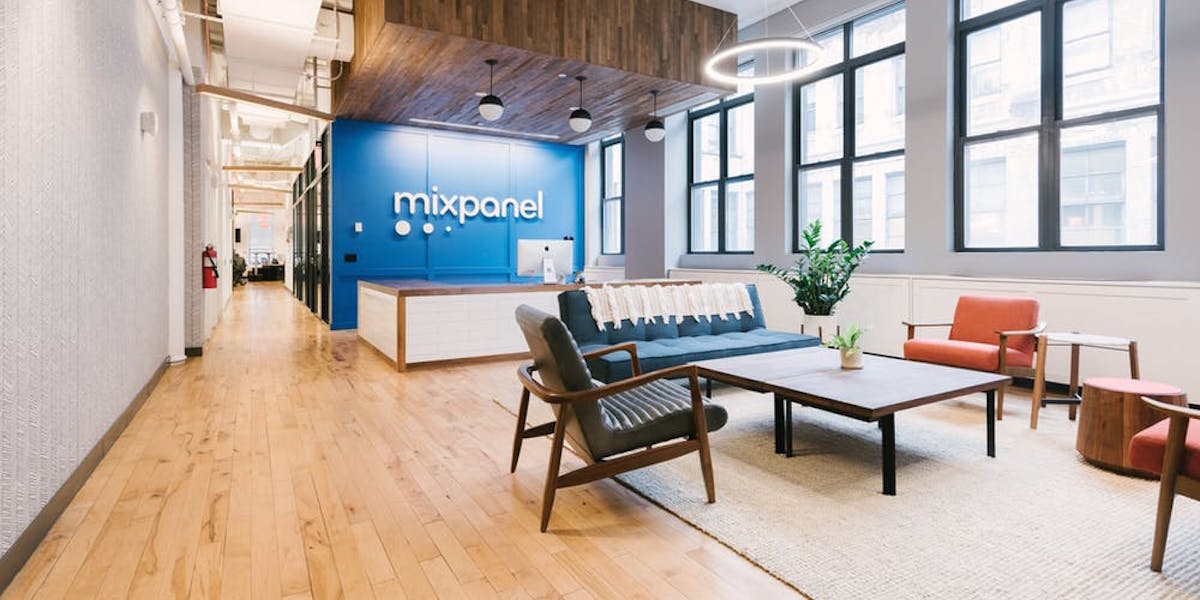 If your startup is in a rapid-growth stage, i.e. you've raised several rounds of funding and are looking to expand, then you might want or need a custom office built out. Certain coworking spaces, such as Wework, Industrious, Knotel, and Liquid Space, cater to growing VC-funded startups who need full floors or buildings. They will partner with you, like a real estate developer, to design, build, and manage a tailored layout and once you move in you have all the benefits and amenities of a shared community.
But does coworking make sense for your business's plans?
Your company will inevitably change—and hopefully grow—over time, so, your office space will also need to flex to fit. Are you going to be hiring engineers and developers in the near future? Will your business need better technology and more meeting space? These are all things worth considering and asking about when sourcing a coworking space and vetting whether they can accommodate your current needs and future plans.
Be sure to also look for the following aspects of each coworking space you're considering before you decide:
Pick a location and style
Take a few spaces for a spin with free trials and apps (like Croissant!)
See what current members are saying
Look at your travel plans (short-term business trips and long-term office locations)
Most importantly, you have to make sure the pricing and plans fit your startup's budget.
The indinero Guide to Building a Small Business Budget can help you account for the many operational and growth-related expenses you'll incur as a business—the costs of your workspace are no exception and go hand in hand with equipment and hiring.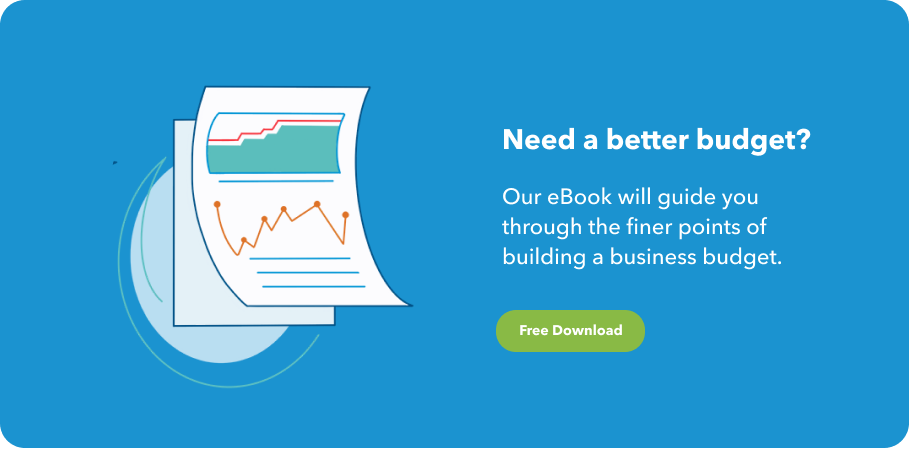 Quick Note: This article is provided for informational purposes only, and is not legal, financial, accounting, or tax advice. You should consult appropriate professionals for advice on your specific situation. indinero assumes no liability for actions taken in reliance upon the information contained herein.