The world of business finance has evolved dramatically with the advent of sophisticated enterprise accounting software. These systems are instrumental in streamlining financial processes, managing inventory, recognizing and deferring revenue, organizing accounts receivable and payable, and tracking pivotal data points that influence cash flow and budgeting.
With reliable enterprise accounting software and business intelligence, businesses can have up-to-date information about their finances in real-time. This flexibility saves time and money that would otherwise be spent on calculating profit and loss statements, inventory reports, payroll reports, and numerous other tasks that are easy to take for granted until they're unavailable.
However, with so many options on the market today, finding the right enterprise accounting software can be difficult, especially if you don't have in-house experts to help you navigate the process.
What is Enterprise Accounting Software?
Enterprise accounting software can significantly streamline a company's financial management tasks. For instance, it can automate repetitive tasks such as data entry and invoice processing, reduce the risk of human error, and provide real-time visibility into the company's financial status. Moreover, it enables companies to comply with financial regulations and standards, as it can generate detailed financial reports and analyses. Enterprise accounting software can improve the efficiency and accuracy of a company's financial operations, thereby contributing to better decision-making and business performance.
This type of software often includes features like general ledger management, accounts payable and receivable, payroll, budgeting, forecasting, and financial reporting. It can also often integrate with other business software to provide a comprehensive business management solution.
Enterprise accounting software can have some complex capabilities – for example, it might integrate with various business processes such as CRM, purchasing, or payroll – so it's important to work with a trained professional for assistance.
Benefits of Enterprise Accounting Software
Cost savings
Clear reporting
Simplified tax filing
Better financial planning
Advanced features
These systems can also provide businesses with more accurate financial planning and analysis (FP&A), which is beneficial for making critical decisions like choosing which suppliers to do business with. This information can help new businesses expand, cut wasted spending, and find ways to increase profits.
Improved Focus on Your Departments, Divisions, and Entities
With enterprise accounting software, businesses can better understand their departments, divisions, and entities. This type of software gives businesses an overview of how different parts are performing and lets them make informed decisions regarding budgeting and forecasting.
Finding the right accounting software for your business will depend on your needs, budget, and the number of employees needing to use the software. As with any business decision, consulting with a skilled professional about enterprise accounting solutions for your business is worthwhile.
Features and Functions
Enterprise accounting software offers a range of features and functions that can significantly streamline a company's financial management tasks. These features include:
Project Management
Enterprise accounting software can offer project management features that are beneficial for businesses dealing with complex workflows, multiple vendors, and lengthy timelines. These systems allow businesses to track every project step, from budgeting and resource forecasting to performance measurement and reporting capabilities. This allows for better collaboration between departments, more efficient task tracking, and improved control over the timeline.
Advanced Features
Enterprise accounting software can also offer advanced features such as interactive dashboards, detailed reporting tools, integrated scheduling systems, customer relationship management (CRM) capabilities, and more. These tools help make managing finances easier and more efficient. With these tools in place, businesses can easily monitor profitability, analyze performance data in real time, assess cash flow trends, spot potential areas of improvement, and generate comprehensive financial reports.
Time Tracking
Time tracking is an important feature of enterprise accounting software that allows businesses to keep track of employee hours and time off requests. It allows business owners to manage their resources better, accurately forecast budgets, and stay compliant with labor laws. Time tracking also helps businesses identify areas where they can improve productivity or save money by reducing unnecessary overtime or labor costs. Many enterprise accounting systems come with built-in time-tracking features, so there is no need to purchase additional software.
Inventory Management
Inventory Management is an important feature of enterprise accounting software that helps businesses track and manage their inventory. It allows businesses to keep accurate records of product purchases, stock levels, and sales information. This enables businesses to forecast future demand, optimize purchasing decisions, and reduce the cost of overstocking or understocking. Inventory management also helps ensure that customers receive the right product on time, every time.
Supply Chain Management
Supply chain management is an important feature of enterprise accounting software that helps businesses manage their suppliers, goods, and services. It allows businesses to track the entire supply chain process from procurement to delivery, giving them greater visibility into their operations. With this feature, businesses can better identify potential areas of inefficiency or cost savings and improve their supplier relationships. This feature also helps businesses improve their customer service by reducing delivery times and increasing visibility into the supply chain.
Financial Reporting and Financial Reports
Financial reporting is an important part of any business; enterprise accounting software can help streamline the process. With an integrated financial reporting system, businesses can generate comprehensive financial reports with accurate data in a timely manner. These reports can include financial statements such as balance sheets, income statements, cash flow statements, etc.
Expense Tracking
Enterprise accounting software can also provide businesses with advanced expense-tracking capabilities. This allows businesses to track and manage their spending in real-time, making it easier to stay on budget and identify inefficiency or cost savings areas. Expense tracking can help businesses identify potential fraud or abuse of company resources and track employee expenses for reimbursement purposes. It can also provide
Cash Management
Cash management is an important feature of enterprise accounting software that enables businesses to monitor and manage their finances accurately. This feature allows businesses to track and analyze the cash flow in and out of their system, allowing them to manage their cash flow more effectively. Cash management helps businesses identify areas where they can save money or improve efficiency by reducing unnecessary expenses.
Customer Relationship Management
Customer Relationship Management (CRM) is an important feature of enterprise accounting software that helps businesses track and manage their customer relationships. With CRM, businesses can store customer data, such as contact information and preferences. This allows businesses to build better relationships with customers by providing personalized services and offers. CRM also helps businesses streamline their sales processes, allowing them to close more deals in a shorter amount of time.
A Software Stack vs an Enterprise Accounting System
A software stack, a collection of multiple software applications working together, can allow businesses to manage several aspects of their operations. A software stack often includes several specialized programs such as accounting, inventory management, customer relationship management (CRM), supply chain management, and more.
Why a Software Stack Might be Better for Some Businesses
For some businesses, a software stack might be the better option as it allows for more flexibility when it comes to integrating and managing different applications. With a software stack, businesses can choose the applications that best suit their needs and integrate them into a single system. This makes managing multiple aspects of their operations easier from one central platform. Additionally, software stacks are often updated more frequently than enterprise accounting systems, making them more secure and up-to-date.
An enterprise accounting system is an integrated package of software applications designed to manage a business's financial activities, such as accounts payable, accounts receivable, payroll processing, and inventory management. Enterprise accounting systems allow businesses to monitor their financial performance in real-time and make data-driven decisions. They also
Popular Enterprise Accounting Software Platforms
Enterprise accounting software platforms are becoming increasingly popular among businesses of all sizes as they provide an integrated and efficient way to manage finances. Popular enterprise accounting software platforms include Intuit QuickBooks, Sage 50, Oracle NetSuite, Microsoft Dynamics GP, and Xero. 
This article covers the two main accounting enterprise systems that indinero mainly works with: Quickbooks and NetSuite.
Quickbooks Enterprise Accounting Software
One of the frontrunners in this realm is Quickbooks Enterprise, a cost-effective financial accounting software that grows alongside your business. It has won the trust of non-profit organizations and 501c(3)s due to its affordability.
QuickBooks Enterprise offers affordable financial accounting software for small- to medium-sized businesses, with options to scale as your business grows. With services ranging from inventory management to tax compliance solutions in one package, Intuit offers a complete solution that covers your company's needs from start-up to growth.
QuickBooks is equally popular with non-profits and 501c(3)s because of its low price points and easy-to-use features that simplify enterprise fund accounting.
QuickBooks Enterprise does have some drawbacks, and larger firms are more likely to find what they need in other software. For example, Enterprise isn't cloud-based, so you'll either need to use on-site storage or purchase third-party cloud hosting. It also doesn't offer the option for automating records, so someone will have to devote time to data entry and report consolidation.
Dive deeper into account topics with these blogs:
NetSuite
NetSuite is far more than an enterprise accounting system. In fact, it's the most popular ERP for mid-sized businesses. It is designed to handle enterprise-level accounting as well as all other key business processes in a single platform. NetSuite is optimized for larger companies and features a customizable general ledger to help CFOs keep information organized.
It offers a full suite of tools, including web-based billing, accounts payable, accounts receivable, tax planning and compliance features, inventory management capabilities, asset management, and shipping tools. It also offers access to external apps through NetSuite Marketplace. NetSuite can help with project management by improving workflow and automating repetitive processes.
One of its main selling points is its flexibility: users can choose from several packages based on their business's size and financial requirements. NetSuite can also help institutions stay compliant with enterprise fund government accounting. NetSuite has an impressive mobile app, and the cloud-based storage offers fast access to your data.
However, these capabilities come at a higher price. While smaller businesses can still benefit from the expansive services, they may not have the budget for them.
Accounting and Tax Solutions Guide from Indinero
Get actionable advice and accounting tools for your new business.
Choosing the right accounting software: SMB to enterprise
Choosing the right accounting software for an organization's business needs can be complex. When selecting accounting software, businesses must carefully examine what an enterprise solution can do for them and compare it against their own criteria.
A business must first decide what type of financial solution best suits its needs. This could range anywhere from an entry-level small business accounting package to a more comprehensive enterprise-level system.
It is important that the features and capabilities offered by the chosen software meet or exceed the specific criteria outlined by the company; this includes modules such as payroll, invoicing, reporting, and taxation capabilities. When selecting an enterprise accounting platform for a successful implementation, it is also crucial to consider all factors, including cost, support services, security features, ease of use, and scalability.
Businesses should evaluate several different solutions before making any final decisions. They should inquire directly with each vendor and ask them questions about pricing models, customer service quality, and other useful features that will help streamline their operations in the future. Considering key requirements such as usability, integration with existing systems, and platform independence will ensure that businesses select the most suitable suite of accounting tools available on the market today.
Software we recommend for your Software Stack 
Enterprise-level accounting software can get expensive, and many businesses may prefer piecemeal services that are more accessible at a lower cost. Quickbooks Online is the most widely used accounting software for small businesses, but if you want to help your company go further without spending as much, you can check out some of these other software solutions.
Expensify
Expensify offers a cloud-based system that saves time and reduces human errors during data entry. By eliminating cumbersome spreadsheets and streamlining expense management, Expensify keeps your costs down and makes submitting accurate and up-to-date reports easy. They offer free service for individuals and low-cost business plans for as little as $5 per user.
Expensify offers 256-bit SSL encryption to protect sensitive financial data. Expensify is designed with accounting and finance professionals in mind, regardless of your industry or company size. Their user interface makes expense management a breeze and offers customer support if anything goes wrong with your report.
Gusto
Gusto offers a powerful, all-in-one HR resource to help you manage hiring, payroll, and taxes. With some of its offerings completely free, Gusto is a very attractive choice for startups and freelancers. Some nice accounting software features offered by Gusto include payroll tax filing, direct deposit and 1099 filing, invoicing, time tracking, expense tracking, and more.
The software integrates with third-party software like Salesforce and Quickbooks, making it very user-friendly. The app is available on desktop and mobile, so you can use it wherever you are. Despite its low costs, Gusto's advanced technology means you get powerful results without having to pay enterprise-level prices.
Bill.com
Bill.com offers a simplified way for businesses to manage accounts payable and accounts receivable through secure ACH transactions. The service also eliminates manual bookkeeping with cloud-based accounting solutions, online payment processing, automated email reminders, and more.
In addition, users can easily set up electronic signatures and create custom user profiles to differentiate duties and roles and improve accounting staff efficiency. Bill.com can also save you time by automating approvals to cut the amount of time you spend on accounts payables tasks.
Stripe
Stripe is a fast and efficient way to accept credit card payments with little cost and no hassle.
The service seamlessly offers an API that integrates into your existing website with just a few lines of code. It's also simple to use – you can launch an online store using Stripe Checkout in less than five minutes.
This feature lets customers pay directly from their bank accounts or saved credit cards. And once you start processing payments through Stripe, you can automate payment disputes and get in-depth reporting to drive business growth.
Stripe also has anti-fraud features like tokenization and geolocation verification. If a customer pays with a card saved on his computer, it will not process unless they are physically present at that location. It's one of many ways Stripe uses advanced fraud mitigation techniques to ensure secure transactions every time.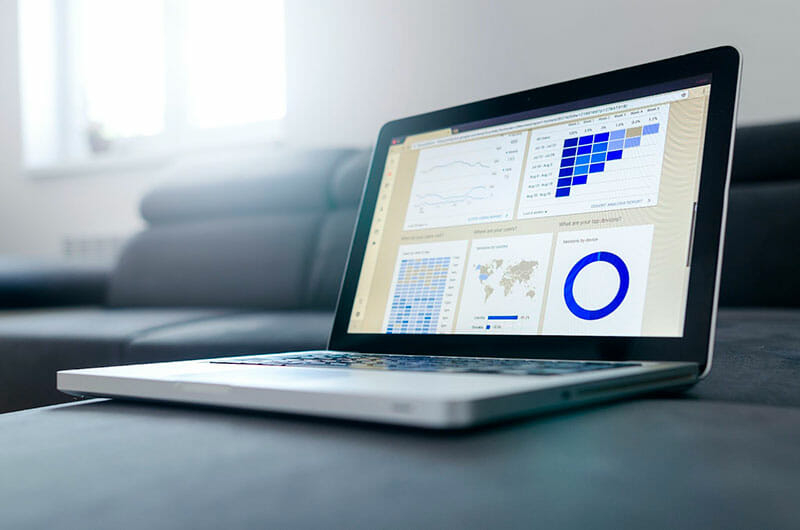 How Outsourcing Your Enterprise Accounting Saves You Money
Accounting is one of the top professional services, and for good reason. Fractional CFO services can help you select and implement the right enterprise accounting platform, as well as help you manage all aspects of your finances. Not only is it cheaper than hiring a CFO, but it also saves you time and energy that you can use to grow your business.
CFO services can also help file quarterly tax returns so you can make the most of your tax deductions and protect yourself from an IRS audit. Hiring an experienced CFO and accounting service can also get you access to crucial business intelligence such as cash flow management and analysis. These tools are invaluable for keeping your business healthy and productive.
A long-term relationship with an outsourced CFO means they will get to know you and your business's challenges and offer proven solutions to address them.
An Enterprise Accounting System for Business of All Sizes
At indinero, we offer all-in-one accounting services for businesses at every stage of growth. When you partner with us, you get fractional CFO services from a team of over 126 accounting experts at a fraction of the cost of an internal hire without having to worry about turnover.
Our flexible, transparent pricing model lets you pick and choose the services you want, so you'll only ever pay for what you need. We can help with financial strategy and long-term planning, tax expertise across specific industries and local markets, and general accounting and bookkeeping services.
We provide software-agnostic advice to help you choose the best enterprise accounting software solutions for your business and can help you with implementation and compliance every step of the way. Contact one of our experts today to learn more about how we can help.