There's lots of advice out there about what companies should spend on marketing. Most commentators claim businesses should spend around 6-12% of their revenue on marketing, but it's important to remember that's when they're speaking to a wider audience. If you're trying to decide how much you should spend to generate revenue for your business, there is a lot more information you should consider.
One of the biggest factors you need to account for when setting your company's marketing budget is your industry. Take a consumer goods company for instance. In today's competitive digital landscape, they could spend 12% of their revenue on online advertising alone. That's going to look much different than a transportation company who is likely to spend much less than 6% because so much of their business depends on existing relationships and campaigns.
So let's start by taking a look at how much money marketing teams have to play with based on their industry.
What do different industries spend on marketing?
The Wall Street Journal shared Deloitte's analysis of a study that surveyed more than 300 Chief Marketing Officers (CMOs) across 12 core industries to see what they were spending on marketing:
| | |
| --- | --- |
|  Industry: | Average percentage of revenue spent on marketing: |
|  Consumer packaged goods | 24% |
|  Consumer services | 15% |
|  Tech Software / Biotech | 15% |
|  Communications / Media | 13% |
|  Service Consulting | 13% |
|  Education | 11% |
|  Healthcare / Pharmaceuticals | 10% |
|  Retail Wholesale | 10% |
|  Banking / Finance / Insurance | 8% |
|  Transportation | 8% |
|  Manufacturing | 8% |
|  Energy | 4% |
Where do different niches put their marketing budgets?
Startups may find making a large investment in brand awareness campaigns quite intimidating at first. "As a startup/small business with limited cash flow, it's difficult to take the plunge into spending precious money on advertising" according to Rich Santo of Culture Studio. Instead, many startup founders and first hires focus on putting sweat equity into their marketing leveraging the time and resources within the team.
Unfortunately, not all founding team members have a formal background in marketing, advertising, or communications. This doesn't mean you need an experienced marketer on board, but with so many paths you can take, it's important to focus those efforts on the marketing strategies that are proven to work for your industry.
Tech Software/Biotech Marketing Should Focus on Lowering the Barrier Between Leads and Sales
Tech Software and Biotech industries, and other specialized niche products or services, tend to lean more heavily on sales-focused teams. At these organizations, marketing is an extension of sales, rather than the other way around. Automation and systems where marketing bleeds heavily into sales may take up a greater percentage of the overall spend because all marketing should focus on specifically-targeted leads.
Communications/Media Budget to Increase Awareness
Marketing and PR agencies tend to spend money on what they know. If a company is in PR or a similar industry, they might spend on similar channels like social media, promoted posts, and other ways to amplify the content they are producing as their core competency. Spending on what we know is not seen by most as a weakness, but rather wielding the insider information to get the most out of natural strengths.
Consulting Services Should Allocate Spend (Time and Money) on Documenting and Distributing Their Expertise
As a consultant, your brain is your business. People or organizations pay you for your thoughts and expert advice. Sharing your guidance—as much as you're comfortable with—on social media and via content marketing is a great way to get in front of more people looking for your services. By answering the questions your ideal prospects ask on sites like Quora and creating clear calls to action, you'll be able to fill your sales funnel with high quality and highly interested leads.
eCommerce Startups Need to Pay [Literally] to Play
eCommerce is one of the biggest spenders on marketing, particularly when the company has found good ways to minimize their margins—most typically by finding the right tools that help them scale. These kinds of companies can spend upwards of 40% on marketing, skewing toward paid search ads and sponsored posts on social media to bring in web traffic. Remarketing can really be beneficial in this niche, and particularly product-specific dynamic remarketing on Google Adwords and Facebook yields increasingly higher returns for the companies that wield it to their advantage.
Industry benchmarks are just a jumping off point
While looking at industry trends can give you a place to start, you can't exactly justify any expense without the financial metrics to back it up. The other main factor you'll need to consider is your Cost of Goods Sold—or the value of the labor, materials, and overhead it takes to produce what you're selling.
If it's costing you more than it should to provide your product or service, it's good to be more conservative with your marketing spend. That's not to say you should let your COGS percentage drive down your ability to to market your product or service effectively in the long term, but it is an ongoing balancing act.
This marketing budget calculator can do some of the math for you, but only if you know or can predict your annual revenue, breakdown of revenue streams, and headcount/hiring forecast. As long as your business has a reliable accounting system, you shouldn't have a hard time getting a useful calculation.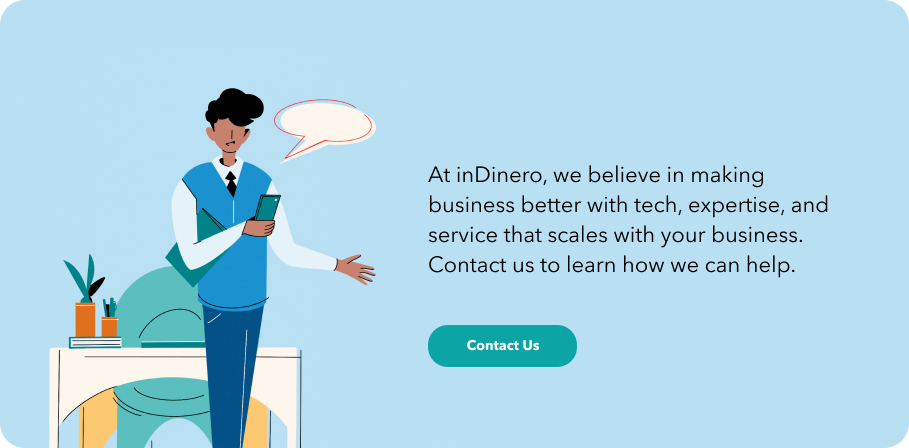 Quick Note: This article is provided for informational purposes only, and is not legal, financial, accounting, or tax advice. You should consult appropriate professionals for advice on your specific situation. indinero assumes no liability for actions taken in reliance upon the information contained herein.