Like many fast-growing SaaS businesses, Lumavate faced increasing financial complexities that needed a professional's attention. Through indinero, they found an expert with the industry credentials to streamline their business—and years later, indinero and Lumavate are still partners.
Here is their story.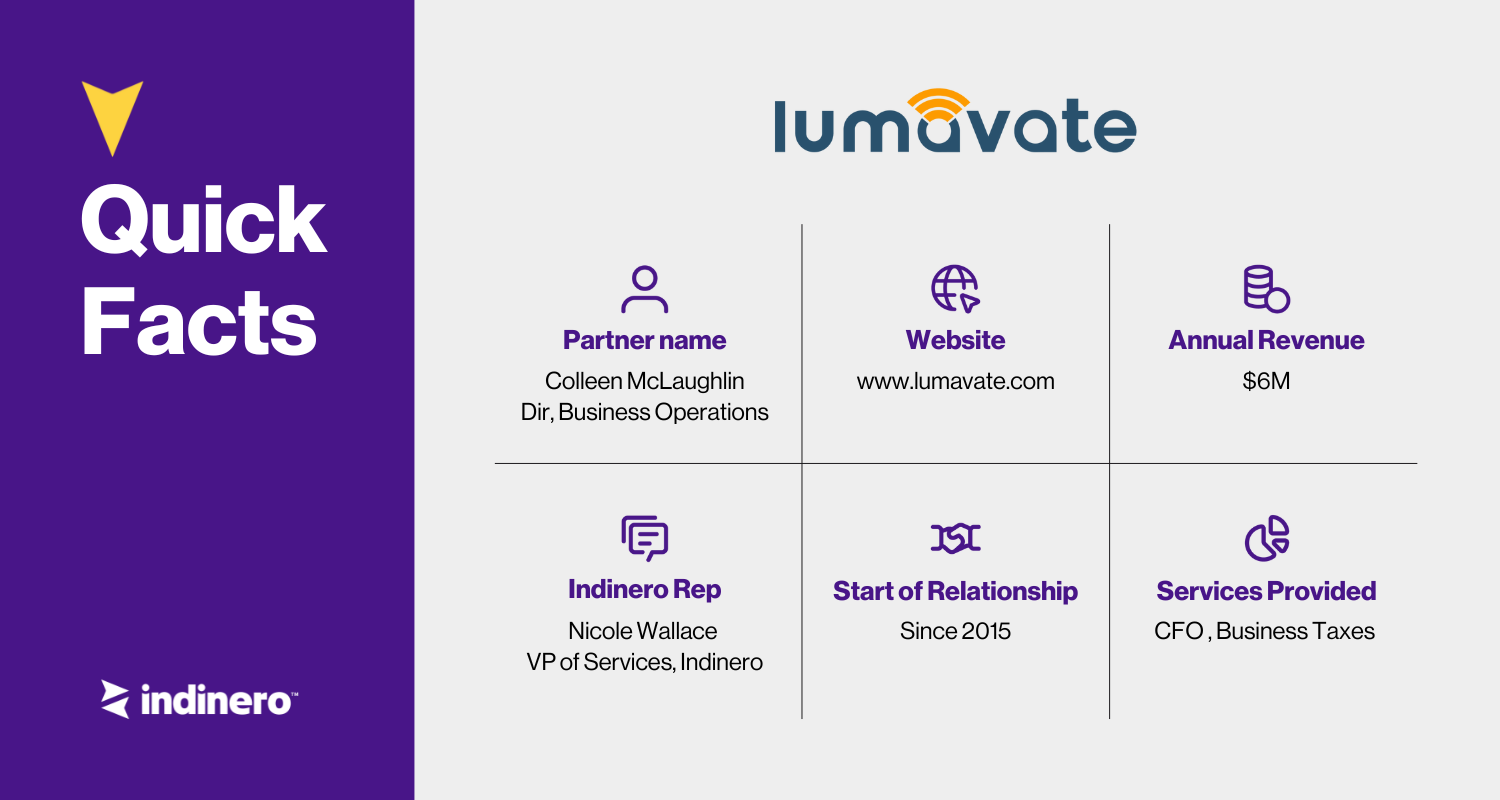 Lumavate: A Growing SaaS Business In Need of An Industry CFO
Lumavate's innovative software provides a platform for customers to build digital experiences showcasing their products. They serve various enterprise companies, offering both software and service subscriptions.
While offering flexible payment plans served Lumavate's customers well, it created complexities for the business. As their customer base grew, they soon realized that their growth was outpacing their ability to manage the financial side of their business internally.
In their quest to find the absolute best financial support, they found Nicole Wallace and indinero. From day one, it was an ideal match. With Nicole at the helm, the indinero team streamlined financial processes for Lumavate, paving the way for growth for the company and a long-lasting relationship that is still going strong to this day.
The Challenge: Seeking a Financial Expert Who Understands SaaS
The Lumavate team knew they needed more financial support, but they couldn't choose just any accountant. In the SaaS industry, specific complexities and ever-changing regulations require more than just a general financial expert's eye.
The Solution: A Fractional CFO Who is Also a SaaS Specialist
This need for a SaaS expert who could also inform stakeholders led Colleen and her team to indinero's virtual CFOs and business tax accountants.
Indinero approaches each client relationship with a personalized approach. When it came to Lumavate, the team was assigned based on industry-specific expertise that would bring the most value to the SaaS business.
Nicole Wallace, VP Services, Indinero
Nicole Wallace, the Vice President of Services at inDinero, brings over 25 years of diverse experience, including 10+ years as a Director at mAccounting (now a subsidiary of inDinero). She has provided CFO/COO services across various industries, guiding clients through funding, acquisitions, and successful exits totaling over $100 million raised and $250 million in exits.
Nicole's journey began in corporate accounting at Software Artistry, leading to a successful IPO and acquisition by Tivoli Systems/IBM. She later joined Escient Technologies, witnessing its growth from a startup to a division of D&M Holdings. With a degree in accounting from Indiana University Kelley School of Business, Nicole's expertise and active involvement in organizations like gBeta and Starfish Initiative contribute significantly to inDinero's success.
Not only did Nicole have expertise in the SaaS industry, but she'd worked with Lumavate previously in a different role. This deep understanding of Lumavate's business model, history, and goals made her the perfect fit.
It's been such a comfort, having someone who's been with us for so long. Nicole really gets our business. She understands not just our product and revenue streams, but the nuances and individuals who make up our company. Everyone, including our CEO and chairman of the board, has so much trust in Nicole and the Indinero team.

Colleen McLaughlin, Director of Business Operations, Lumavate
The Results: The Insights of a Full Accounting Team at a Fraction of the Cost
Lumavate began to see results from Nicole's insights immediately, and her positive impact on the business has only grown over time. Here are just a few ways indinero changed the game for Lumavate:
Simplifying the complex for everyone in the business
Nicole's first action was to streamline the financial systems at Lumavate. From there, she continued to work as a trusted partner, equipping Colleen with the information she needed to keep the board and CEO informed.
Providing long-term education and confidence
There's value in having a long-term, trusted partner when managing your business finances. As indinero's representative, Nicole has provided ongoing education and consultation, helping Colleen and other stakeholders better understand their business's financial health.
An entire team of experts, all within budget
Nicole is Lumavate's primary point of contact, but she's not the only financial expert from indinero that's consulted with the company. Often, if they need insight from a different advisor, Nicole will bring one of her indinero colleagues to a meeting with Lumavate to make sure their questions are answered.
Indinero has been such a great partner over the years. They've been easy to work with and so responsive. And best of all, they are very fair on the rates considering the amount and quality of the services they provide.

Colleen McLaughlin, Director of Business Operations, Lumavate
Finding indinero has helped Lumavate save a significant amount of money over the years, considering that the company didn't want to pay the salary of an in-house CFO when they only needed someone who could assist in a consultant's capacity.
How could an Indinero expert change your business?
Indinero's team of financial experts has experience in a wide range of industries, from non-profits to the tech sector to e-commerce. If you want the insights and improvements only a specialized financial consultant can provide, then contact indinero today.