A business credit card or charge card (if used wisely) can be a huge help for businesses that need help bridging cash flow from month to month. Whether or not you actively use it to finance your business, it is probably smart to have one on hand in case of emergency.
But there is a lot of debate about whether or not a credit card is right for financing businesses. There are certainly pros and cons. For example, pulling cash out can be quite expensive, so if for whatever reason physical cash is your need, it might not be the best bet. The other issue is that the APR can get quite high on credit cards. However, these APRs are often less pricey than some online loans and you do have the opportunity to pay your balance down by the end of the month. 
A benefit of credit cards is that often the application process really comes down to your personal credit score. If you're sitting above a 600+ you've got a good chance of securing a business credit card. Bank loans and longer-term loans are notoriously hard to get approved for, so for some business owners a credit card might actually be the cheapest form of financing out there for them.
If you find yourself shopping for a credit card, before you randomly pick a card, think about the unique needs of your company. Take the time to find a card with benefits that directly correlate with your business needs.
Below, we've compiled a list of some the best credit cards for financing your business. Take a look and determine which one is the best option for you and your business.
Find the right credit card for financing your small business:
American Express Business Platinum Card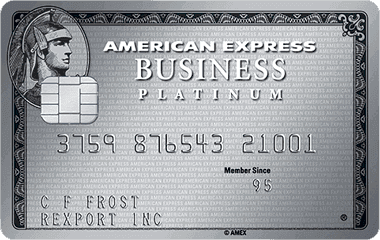 If you frequently travel for work, you may want one that comes with perks for those who travel, such as the American Express Business Platinum Card. 
Anytime you use your membership rewards and pay for all or part of a flight with a qualifying airline, you can get 30% of the points back. Other benefits for frequent travelers include having access to over 850 airport lounges, free credit for Global Entry or TSA pre-check, and $200 airline fee credit, among others. 
As an introductory offer, American Express will reward you 40,000 rewards points for $5,000 spent in the first three months. You'll also earn rewards points for each dollar spent on eligible purchases.
Be aware that this is a charge card, which means there is no interest charge. However, instead of the traditional APR model, you have to pay your balance in full by the end of every month. We like to think of it as an 30 day, interest-free loan. You just have to make sure you're able to pay off what you spend in that short time frame. If you don't, you'll get hit with late fees. This card has an annual fee of $450.
American Express Plum Card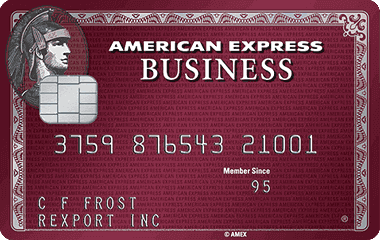 The flexible repayment terms of the American Express Plum Card can come in handy if you run a seasonal business and cash flow can be unpredictable.
Unlike most charge cards, if you don't pay the balance in full each month, you'll be charged interest on the balance. If you're an American Express Plum Card holder, however, one of the many benefits is that you can carry a balance up to 60 days with no interest.
You also have the option to choose your billing cycle, so if most of your bills come at the beginning of each month, cash flow may be a little tight, and you might prefer having this one come during the middle or end of the month. Other benefits include early pay discount, no foreign transaction fees, and more.
This card has a $0 introductory annual fee for the first year, then it is $250.
American Express Simply Cash Business Credit Card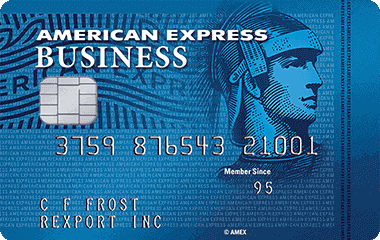 As an entrepreneur, you're constantly reinvesting your money into the business. With the Simply Cash Business Credit Card, that will be a whole lot easier.
On eligible purchases, you could either earn 5%, 3%, or 1% cash back.
Since this is a credit card, you aren't required to pay the card balance in full each month, but if you don't, you'll be charged interest. There's a 0.0% intro APR on purchases for 9 months.
Chase Ink Cash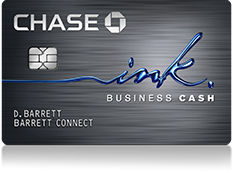 This is another credit card that offers flexible cash back options to its holders. Depending on your purchase, you could earn 5%, 2%, or 1% cash back rewards, which can be redeemed for cash back, gift cards, or travel.
As an introductory bonus, you can earn $200 bonus cash back if you spend $3,000 within the first three months. There's also 0% intro APR on purchases and balance transfers for the first year.
This is a great card to help business owners manage their spending by allowing you to receive instant alerts for every purchase, file receipts, and more.
Chase Ink Plus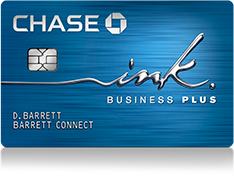 The Chase Ink Plus Business Card offers many benefits to their cardholders, including a great introductory offer, a huge bonus point system and perks for those who travel for work.
With this card you'll pay no foreign transaction fees, you'll have global acceptance with chip technology, get 20% off airfare, hotels, car rentals and cruises, and have trip cancellation and trip interruption insurance. 
This card does have an annual fee of $95.
Chase Southwest Rapid Rewards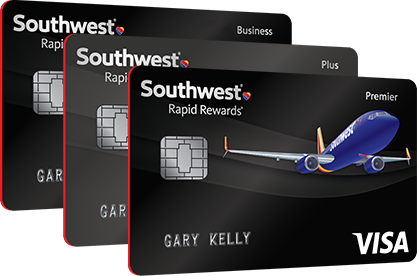 You're not going to be interested in the Southwest Rapid Rewards Card unless you use Southwest Airlines for your business traveling. If you do, however, there's a number of benefits to being a cardholder. 
You can earn points for flights to over 90 destinations and use those points for gift cards, hotels, car rentals, merchandise, among other great benefits.
You'll receive 25,000 bonus points for $1,000 spent in the first three months, and there's no annual fee to worry about.
CitiBusiness AAdvantage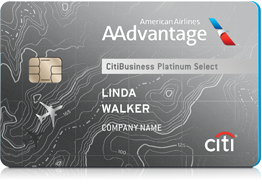 Whether you travel abroad or domestically, the Citi Business AAdvantage card offers a variety of American Airlines Flight perks, as well as other business perks such as earning bonus miles, having travel protection, purchase protection, and more.
Just for spending $1,000 in purchases within the first three months, you can earn 30,000 American Airlines AAdvantage bonus miles.
The annual fee is $95, but is waived for the first year.~
Regardless which business credit card you choose, make a point of reviewing your card's terms annually to make sure that your choice continues to be the best fit for your business needs. With so many options available, the power is yours to choose the perfect credit card for your business.
Quick Note: This article is provided for informational purposes only, and is not legal, financial, accounting, or tax advice. You should consult appropriate professionals for advice on your specific situation. indinero assumes no liability for actions taken in reliance upon the information contained herein.